In between interior design work and homeschooling my kids, I finally got to document the final outcome of the Ikea Bekvam Stool that I've been working on.  After applying Mod Podge  to the whole top surface of the steps, I had to let it dry.  I put two coats to secure the cut out wall paper decals.  Mod Podge acts like a glue and varnish at the same time.  I was pretty pleased with the final outcome.
Here are the steps to this DIY project:
1. Assemble the stool body without attaching the steps.
2. Paint the whole stool frame with latex or enamel paint. Latex has no smell,and is water- based. Enamel is oil- based and while it is more durable and is the ideal choice for wood, there is a strong odor.
3. Let the paint dry and apply a second coat.
4. Cut out any decals that you might want to use and apply it on to your steps with Mod Podge.
5. Paint a coating of Mod Podge over the entire surface of steps to seal the decals and "laminate" them.
6. Let the first coat of Mod Podge dry then apply a final coat.
7. Finally secure the steps to the stool frame.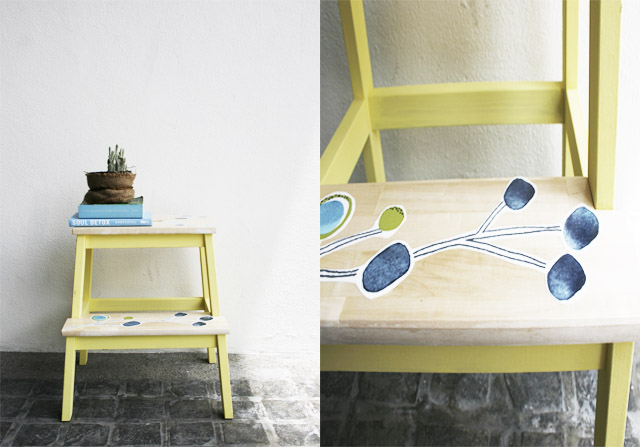 You can chose to paint your steps too before applying decals but I liked the bleached wood effect.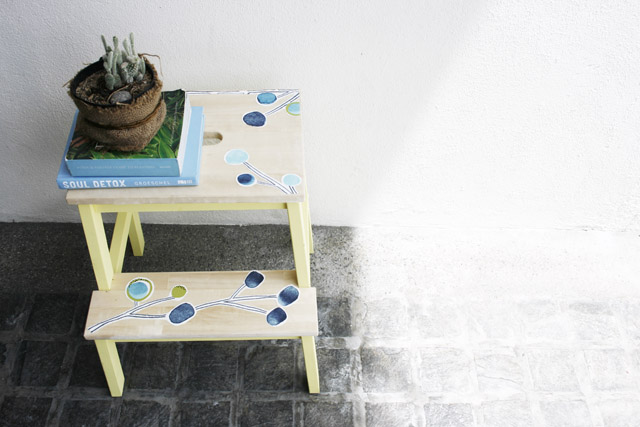 How to Use Your Bekvam Stool:
1.Use your stool as a side table in a casual living room.
2. Use it as a stepping stool to reach overhead cabinets in a kitchen.
3. Use it as stepping stools for kids to reach the bathroom sink.
4. Use it as a stool for kids to reach high book shelves.
There are countless of ways to decorate this stool and many ways to use it too.  Have fun and order your stools from Ikea or MyClosetMonster now!