A beautiful home is something you can achieve even when on a budget.  Creating change in the space you love is quite easy, with some time and creativity, you can make your home prettier.  Decorating a home to be beautiful and neat lessens stress and makes you happier.  That is why I believe in inspiring people through home and design.  With these simple steps you can brighten up your home without breaking your budget.
1. Decorate with plants and flowers.
Nothing adds life more than fresh flowers and little potted plants spread across the room.  The book Decorating With Flowers by Holly Becker and Leslie Shewring, is not only filled with gorgeous photographs and ideas, it gives you actual tips on how to create arrangements for your home.
2. Create a photo or art wall with your children's work, family photographs and other prints.
With just a few frames you can embark on a DIY project that will last years for your family to cherish.  A gallery wall not only preserves memories, it adds decor to any blank space.  I give detailed steps  and tips on how to make a gallery wall in the full article I wrote about Budget friendly ways to beautify your home and you can find this in the MakeItBlissful blog by clicking here.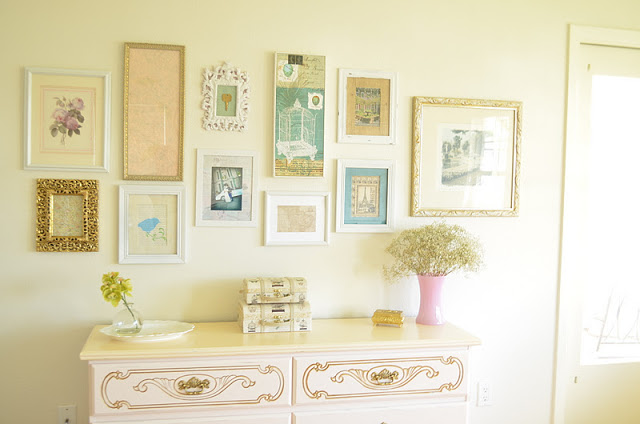 3. Paint an accent wall for your home
A wall with a pop of color or pattern is a great way to beautify your home.  Just a can of paint and some rollers and brushes, and you'll be on your way to creating a different look for your family.  If you think this takes too much time and effort, why not involve the kids and turn this into a fun family project?  I share great tips on how you can get your children to creative something that really looks like wall art in MakeItBlissful.com.