Who would have known that in the heart of Naga City in Bicol, 10 hours away from Manila would be an office that I wish I could transport back home?  Our family was vacationing in this rural province with family friends and I was so glad that we were able to sneak in a trip to visit my friend's space.  Maison Sangreal is an office, concept store and design showroom all rolled into one.
This place is owned by the lovely couple that own Bigg's Diner, a retro inspired restaurant chain scattered in every corner of Bicol and Batangas City.  This space functions as an office for Rica and one of her passions is to mentor and work with the local talent and artisans in Bicol.   When asked what the purpose of this beautiful space was, she explains:
"I've always thought that Bicol is a melting pot of aesthetic.  There is so much talent here and the challenge is marketing it outside whether to Manila or internationally.  Maison Sangreal is a place to inspire and brainstorm.  A venue for minds to spontaneously combust with ideas."
This concept store is a location for Philippine artists and artisans who take pride in their craft that has been handed down through generations.  I indeed saw so much fascinating hand crafted details and art in this vintage themed space.  "I want artists and craftsmen to come and feel that it is accessible, attainable and yet marketable to retail audience.", says Rica.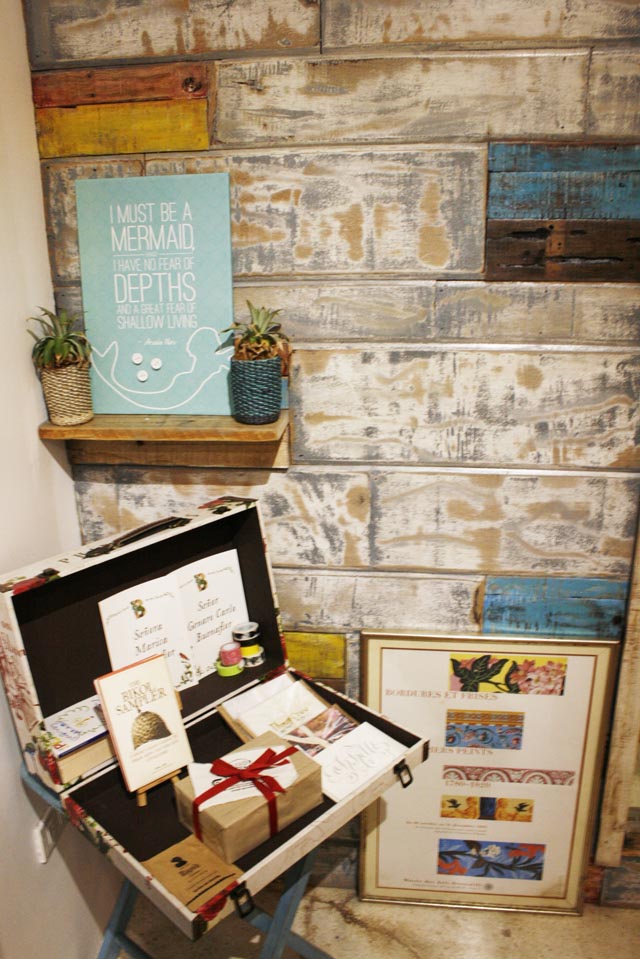 The attractive distressed wall for instance is a testament of her passion to mentor local artist.  They knew what they wanted and made several failed attempts to perfect this look.  She had to bring their creative director, Guillermo Abrenica to Bali.  When he saw and actually felt the design in 3d, he was able to copy it.
Another example of how a collaboration comes to life is the drop light on top of their meeting table.  Ideas are thrown on the table and another team does the execution.  "There's really no formal design process in our design and production team.  We just have fun doing it.  It is like therapy and play for us."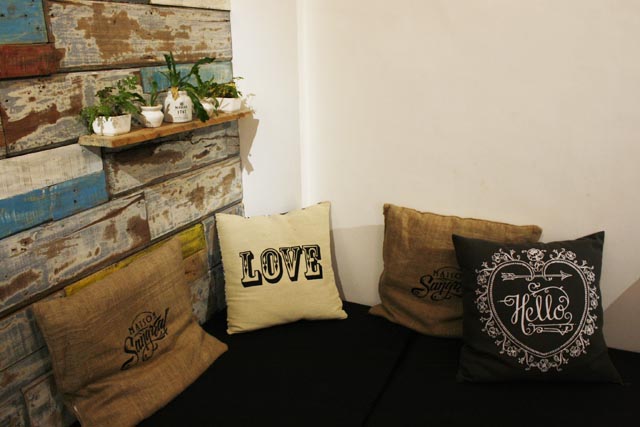 The throw pillows that accessorize the built-in sitting area is proving to be of great potential.  Rica has been working with a team who work with women weavers at the foot of Mount Mayon.  The group also has a product called Gugu which are back packs that make use of this same material called Mayon fabric.  We are still at the process of improving design and craftsmanship.  Rica is also working with a group called Karaw Artventures.  They make rag pet dolls using up cycled cloth.  Each Ragpet is unique and can be customized.  These rag pets are made as through a rehabilitation program for female inmates.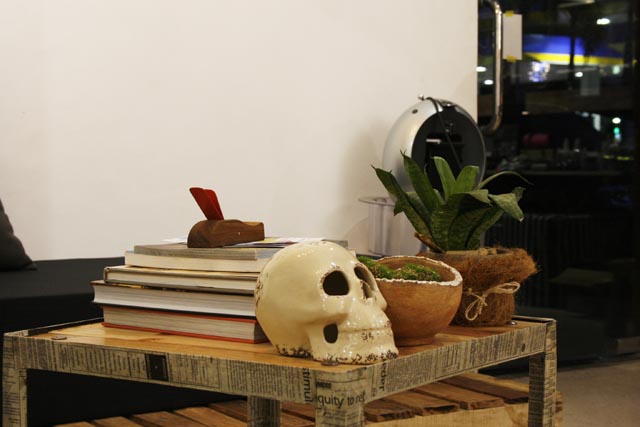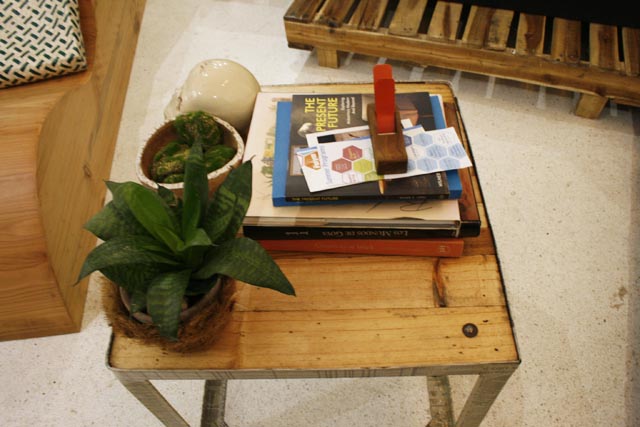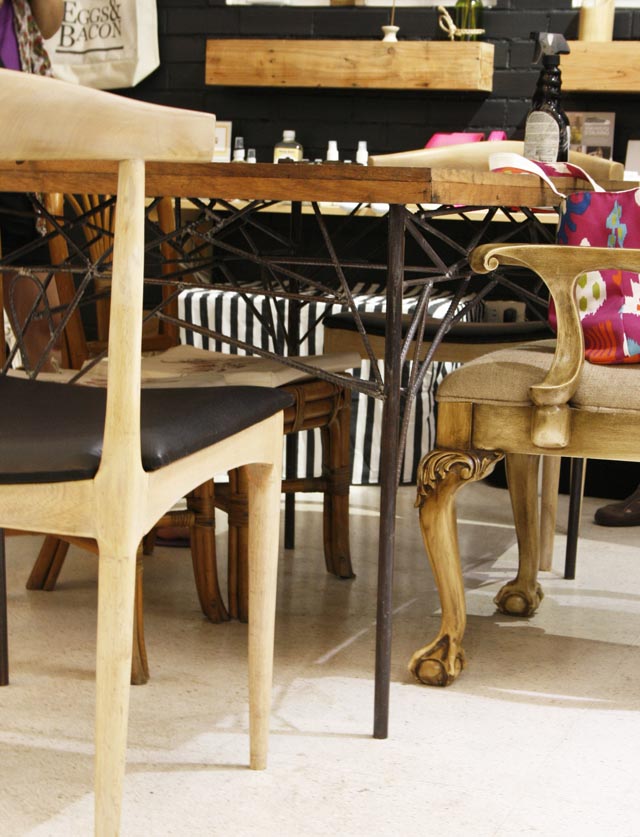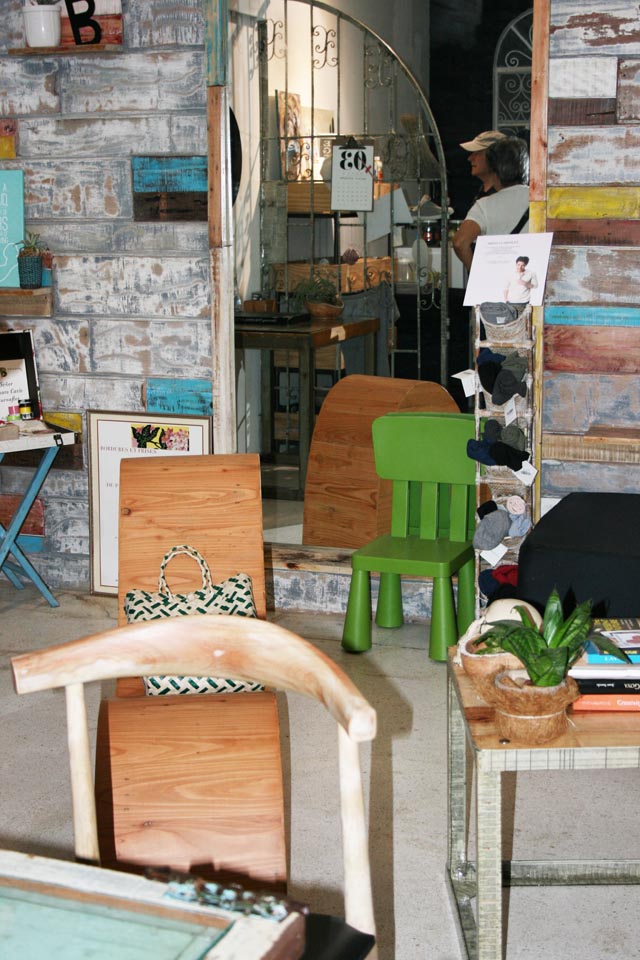 I loved every detail and the fact that everything so unique had meaning.  The mismatch of chairs and  the table made of re- purposed wood, glass and steel make a great and functional meeting area.  Side tables laminated with news paper is something quite original as well.  Surely this place of design and wonder will continue to be an avenue for more inspiring ideas and products.  We look forward to seeing more of their local artist's creations.