Today I want to share with you some gorgeous Christmas decor as we look forward to Christmas happening tonight!
I really miss blogging! I got sick from working too much over the past two weeks and my body just shut down and gave up. I was too tired that I couldn't even blog! I felt horrible. Today after almost a week of not being my usual self, I feel better! Just in time to welcome Christmas!  I looked out the window and woke up to a little rain.  Oh how pretty it would be if it had been snow!  I don't ever recall rain on Christmas day before. While the kids ate breakfast, I wrapped Christmas presents! Yes wrapping gifts on the 24th itself .. first time this has ever happened to me.  While I thank God for all the design work on my plate.. it has been so crazy that I succumbed to everything last-minute.  Late shopping, a last-minute grocery run and late wrapping.  I envy my friends who post gifts of their beautiful hand-made paper wrapper adorned with decorated DIY Christmas tags and just sigh.  Next year It will be better! I will decorate my table top, give gifts in signature style and have lots of time to make it blissful!  Today I chose to be inspired by these beautiful Christmas inspirations from around the web.. something I can do myself next year!
Aren't they all pretty? I don't know why I'm so attracted to light, metallic Christmas decor and colors but I am loving it.  With just some cans of spray paint, glitter, a few glass ornaments and pretty things we can all come up with our own metallic inspired Christmas!  Here are some things you can do yourself next year..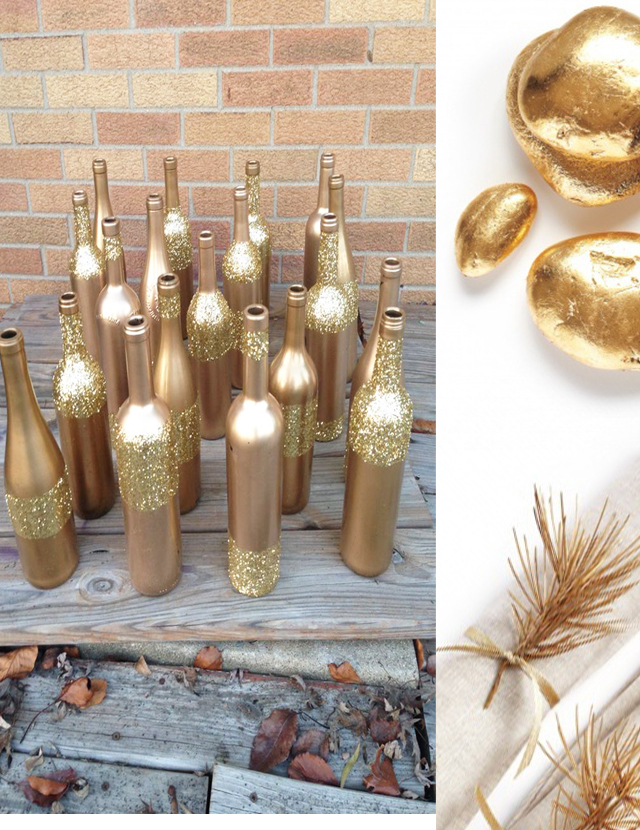 I found these painted bottles dipped in glue and glitter on etsy.com.  These pretty stones and pine tree leaves adorned in metallic paint is a great idea too.  Martha Stewart shows us how here.  What are your favorite Christmas color schemes?  Do you think you'd like to try something less traditional next year?  Wishing you all a Merry Christmas, lots of love and inspiration for the holidays!! Love you all!
"I bring you tidings of great joy which shall be for all the people..for unto you is born this day, in the city of David, a SAVIOR which is Christ the Lord."  Luke 2:10-11