Have you ever come across people who are so inspiring? Those who have such pretty homes, and stunning Instagram photos? That's what my dear friend Martine de Luna is like! Everything she touches is turned into something beautiful.. each moment of life she purposely makes to be blissful.  Her spirit is contagious and influences many through her blog Makeitblissful.
I am blessed that our paths crossed sometime late 2013 when she helped me start my own blog.  We share a lot of things in common like the love for all things pretty, and creating things to make something pretty! It is a privilege to be part of the Makeitblissful blog as a regular writer so I was surely not going to miss the Christmas get together that Martine was throwing for us collaborators and clients.  The whole event from food to decor and giveaways was such a memorable experience.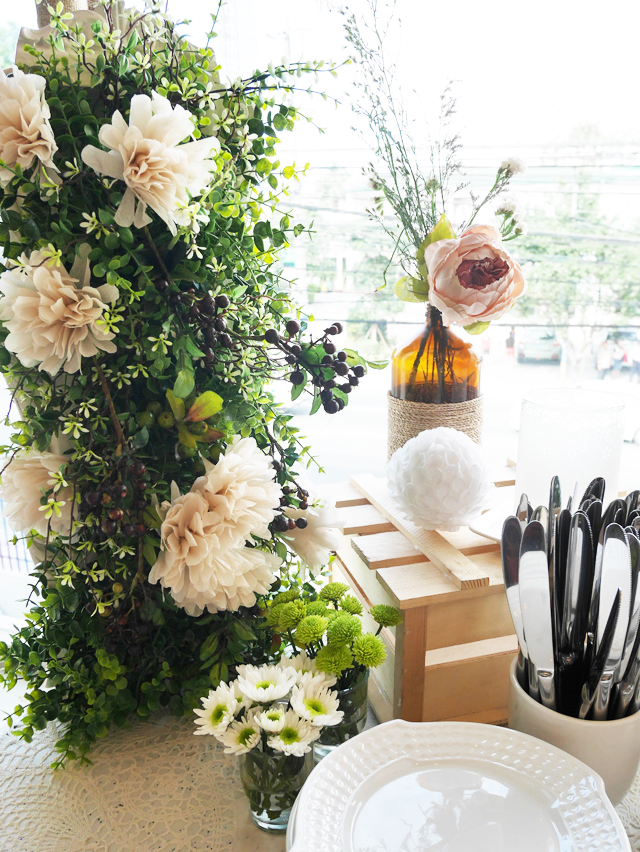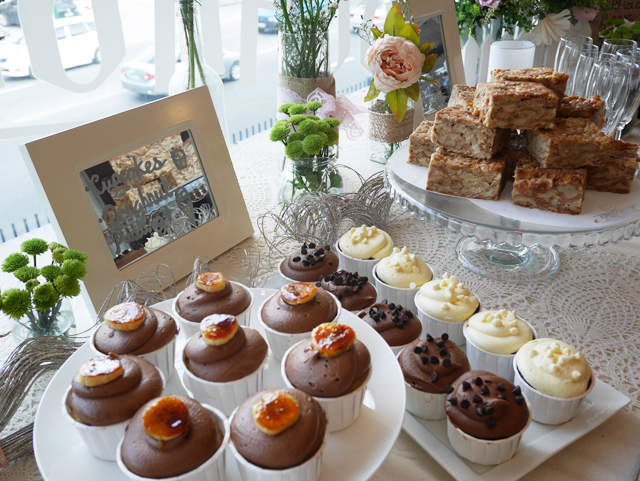 The event was held in Scarsdale Artisinal Delights in Shaw Boulevard. I loved this restaurant it was simply gorgeous, a place I can imagine myself sipping a cup of coffee and resisting the sweets in mercy of my lower tummy. Those sweets were just too delicious. One of the activities that afternoon was a croughnut making contest. We got to pick the ingredients and design our own croughnuts.  Every one was so competitive, designing each vignette was fun! Here was my creation: Perfection of cream, almonds and banana.  I didn't want anything too sweet.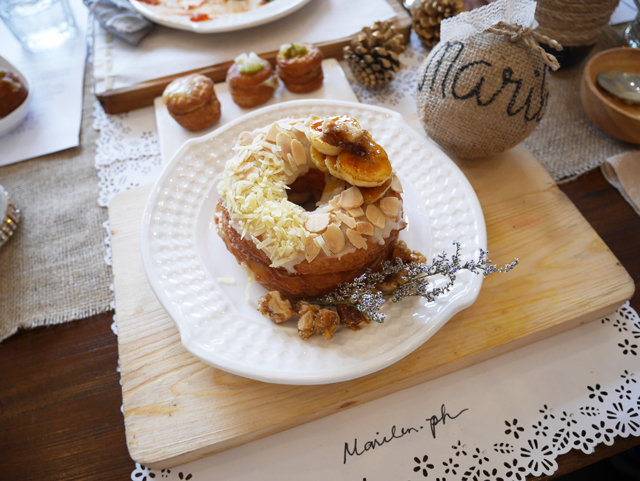 The whole afternoon was a blissful event of collaboration.. Martine's clients, sponsors and blog contributors.  "Collaboration is the new economy." says Martine who has been helping bloggers brand themselves.  Inspiring women filled the afternoon and getting to know each other was of course delightful.
And of course since the event was really about fellowship, celebration and collaboration it would not have been complete without the great sponsors that made us all happy.  Martine raffled off these pretty surprises.
Raffle Sponors: Brown Belly Swimwear (Favorite resort brand of bodycare and beachwear) |  Sitting Pretty Magnet Boards (the original magent board and my favorite for the past 2 years) |  Happy Skin Eyeliner Gel Limited Edition Kits (fan of their affordable, Japan-made cosmetics!) | Sunday Paper Co. notebooks & essentials (Love their high-quality paper and minimalist approach) |  Elin.ph women's apparel (favorite online shopping destination for my daily wear)
Each guest also got to bring home a "bliss box" with items Martine put together herself to thank us women that have helped her along her own blogging career.
Bliss Box Collaborators: Zoya Nail Polish |  philosophy (Hope in a Jar, Microdelivery Facial Wash & facial GC) | Craftsmith (Parcel tags & BW postcards) | The Vanilla Company (Vanilla bean) | A Vanilla Story (Vanilla bear & bodycare) | Cutieverse.com (Hurraw lip balm) |  facebook.com/yosisamraphilippines (Shoes) | instagram.com/casalaarmonia (Black towel) | carlosandveronica.net (Bloom watercolor postcards) | instagram.com/printcafe (for the Box container itself) | heimastore.com (Olive Room Spray)
Thank you Martine for being an inspiration and for providing an avenue for women to grow and share the unique blessings that God has provided each of us with.  We look forward to more blismakerie events in 2015!  We surely had a blast and recalling every detail of your event just made my day blissful!