Dressing to look chic and polished this winter is easy when you have the basic outfit essentials. If you still own knitted Christmas sweaters and marshmallow jackets please be kind to yourself and burn them! While comfort and function is essential, there is no excuse to looking sloppy and unpolished. My grandmother now laughs at the site of me in ripped jeans because they all looked so glam and polished back in the 1950's and 60's. Remember outfits like this?
Watching The Crown on Netflix made me want to wear skirts and dresses more often, but I must admit I am most comfortable in leggings and sneakers. How can we still look polished in clothes that are functional for today's lifestyle? I mean, we do have to walk lots! We take public transport, push strollers and carry baby bags for goodness sake! Here are a couple of winter outfit ensembles I love. Owning a few key pieces and learning how to wear them together is the secret to a pretty look.
Short Skirts with tights.
I love how this short skirt is paired with tights and a sweater. Notice her pearl necklace? Go for shoes in the same color as your tights for a clean sophisticated look.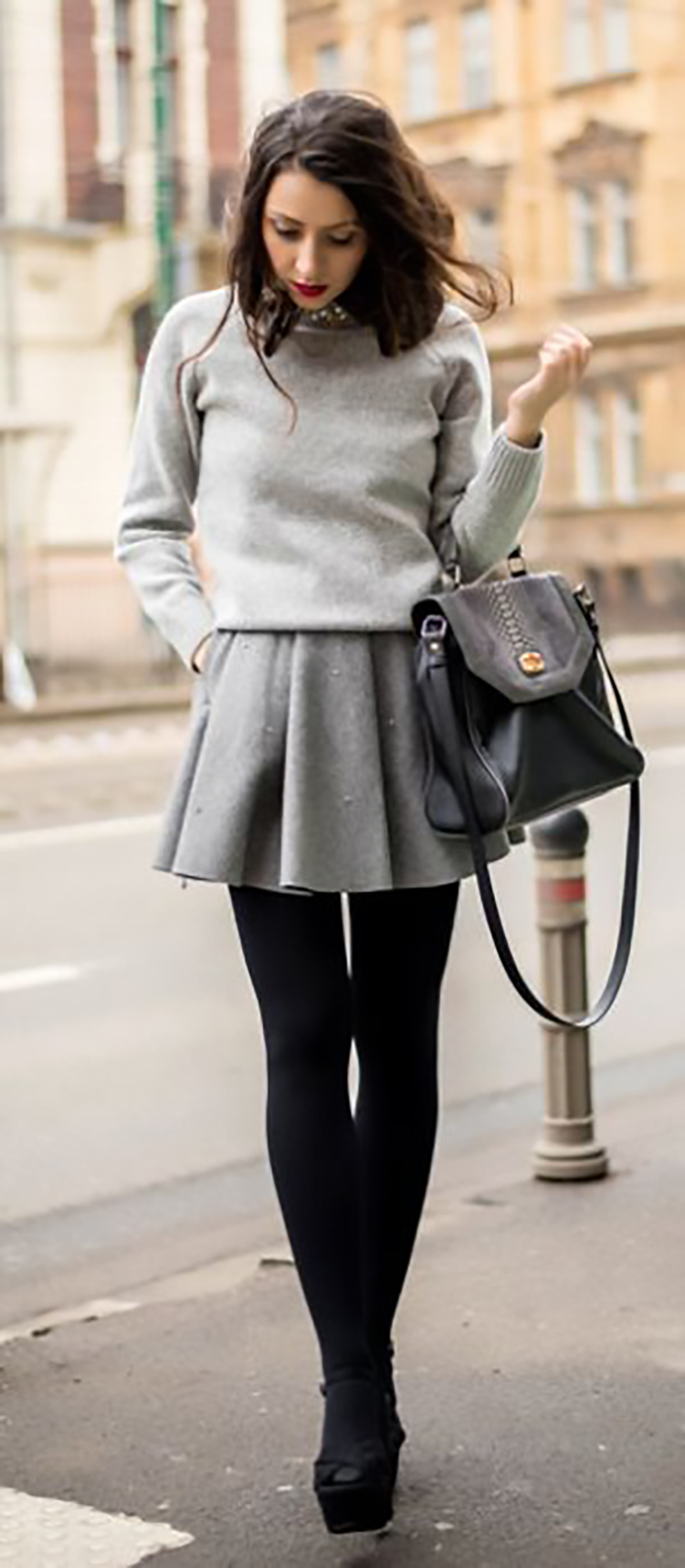 Long Skirts and Long Coats
Pairing long skirts or dresses with long coats always seem to work. I love her ankle boots. Very classy and they are leather too!
Ripped Jeans and Gold Jewelry
If you are after comfort and a relaxed look consider jeans, leggings and sneakers. I like how her jewelry and feminine hand bag balances the rugged jeans. Her silk shirt adds to the feminine look as well.
Sneakers and Leather Jackets
Those who prefer a slightly boyish look will like this combination. A nice sweater with a leather jacket and sneakers.
Loose Sweater Dresses
I love these dresses! You can toss them on so easily and they go well with sneakers, slip ons, boots or heels! So versatile with a set of pearls or a dressy diamond studded neck piece if you want to take things up a notch. Notice how this tan leather bag works so well with this shade of grey?
Scarf and Leggings with Boots
This is what I wear most of the time.. a good fleece lined pair of leggings with boots. I also love scarfs because you can easily take them off or drape them over your torso when you are extra cold.
Folded Boyfriend Jeans and Pumps
Again it's all about balancing things just like how boyish jeans were countered with classy black pumps in this outfit.
Which outfit do you prefer? Enjoy the rest of your winter!