This week has been very exciting for me as I have been planning the reveal of my 1st year anniversary! Yes, it has been a year of blissful blogging.  I launched Marilen.ph last November 2013 and simply wanted an avenue to express my interests, unwind at the end of a hectic day and eventually spend more time working from the home.  Along the way I fell in love with blogging but more importantly a new vision was awakened.  I wanted to touch lives and inspire people to make their home beautiful. In the next few weeks i will be talking more about "inspired home living" but to give you a sneak peek at what lies ahead for you readers, let me introduce to you The Spoiled Mummy, Grace Barbers Baja.
The Spoiled Mummy is known to most for her exciting blog travel entries, love of food, particularly chocolates and strawberries and her dedication as a mom and wife.  Her photos of food and sugar laden desserts are beautiful, you can almost taste it. I got the chance to meet Grace through a common friend and every moment of our meetings together has been inspiring. She is a passionate and driven person with a kind and helpful spirit.  As I stepped into her home I could see the perfectionist that she is, as every detail and decor in her house was deliberately neat. Stepping into her kitchen was not only a visual treat for me but a complete experience of what The Spoiled Mummy is all about.  A pretty serving of her favorite strawberry ice cream welcomed me and it was complimented with a piece of Ben's Cookies from London.   Her kitchen, elegantly wore a black and white striped wall covering which reflects the sophisticated home maker that Grace is.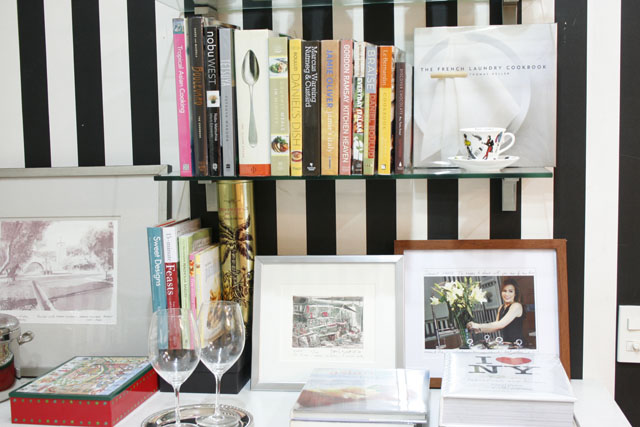 " I love entertaining friends in my kitchen" says Grace. Her big island in the center doubles as a buffet table, and home to intimate conversations with family and friends. "I like to cook so a pretty kitchen was necessary" relates Grace.  She certainly knows how to entertain as she loves to create events and intimate gatherings.  I shared with her a few of my plans for Marilen.ph and she passionately gave her suggestions on event planning and food.  We do share the same desire to influence our readers positively. While I want to inspire, Grace sees the importance to teach women, particularly moms to "spoil" themselves because they do deserve it!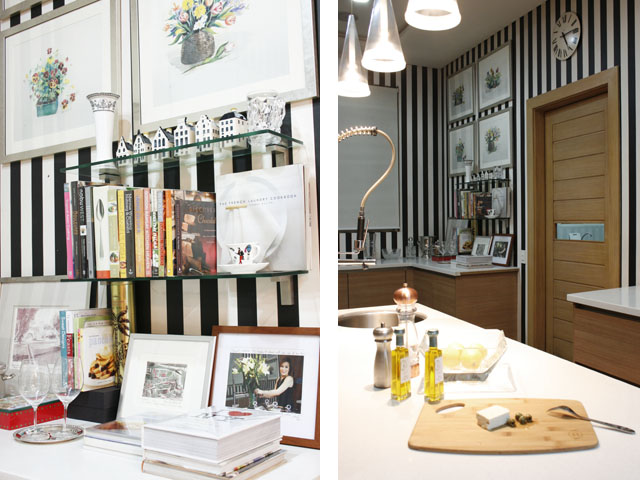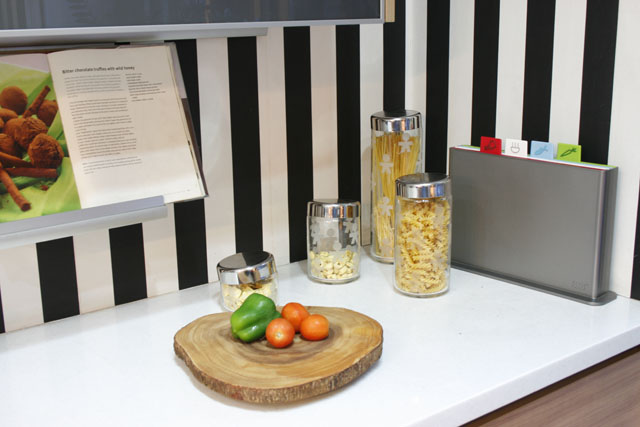 Every side of Grace's kitchen reflects her warm and vibrant personality.  A collection of different oil and spices were situated on one side while a set of tea and dessert ware flanked  another.  It was a great afternoon of mom time, chatting about our blogs and passion. Coupled with the best cookie- ice cream treat and great conversation I'd say it was a wonderful afternoon of work for me.. being spoiled by The Spoiled Mummy!