One year.. That is how long I had to work from make shift space.  On the bed, the dining table and in the middle of my kids and their glorious mess and playing.  While I do enjoy the flexibility of working close to me kids, there are days when I just needed solitude. Those days when I knew I needed  peace, neatness and all things pretty that would make ME happy.  Mommy Space, that is what my friend called it.  A place where a mom can go to for inspiration, a place where a mom can go to so she can accomplish and put checks next to her long list of things to do.  Now that we moved into our new home, I got my own little nook.  Hidden inside big wooden closet doors by our living room, my own mommy space stands proud.  Here are some photos of how I made this space work for me.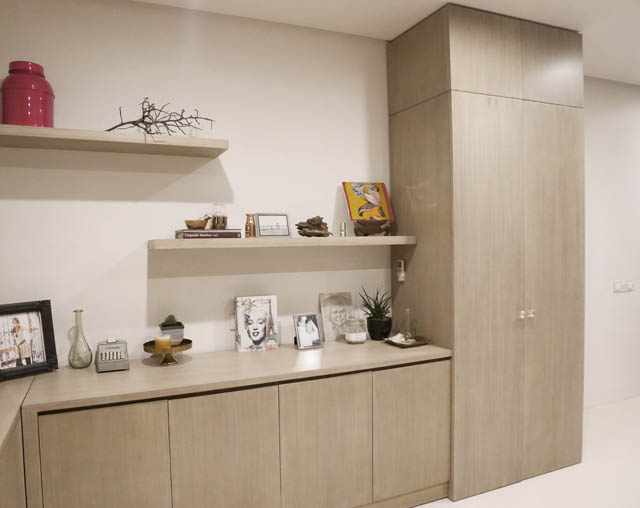 My "me space"/ Mommy space/ home office is inside those tall cabinet doors.  I like the idea of enclosing it so that clutter is not seen and so that my kids don't touch my things when they are not supervised.
This is how it looks like when doors are opened. Heavy duty hinges were needed, and I just used my old office filing pedestal for drawers. Now that you know how it looks like from afar and as a whole, let me show you some before and after shots.  As we were unpacking boxes (we just moved into this new house) I literally just dumped everything that I knew would go into this office for me to organize later. I put my printer on the shelf above so that I have more table space below.
I used a lot of storage boxes in pretty designs and got most of them from The Landmark, Print Cafe and Typo Shop.  They are so convenient!  One box holds all my cables, chargers and wires.  Another holds all my CDs, while I have a box for all my note cards, monogrammed thank you cards and gift tags.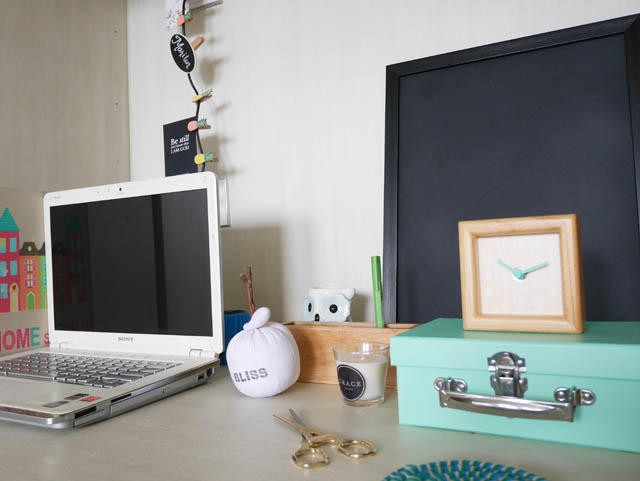 Just in case you are wondering, I got the Eiffel Tower scissors, clock and teal colored box from Typo.  The owl is from My Closet Monster.  I love my Bliss Apple and Grace Home candle too!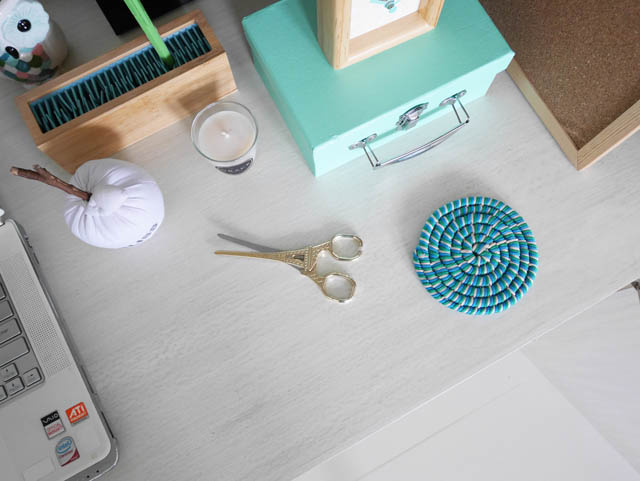 Creating your own mommy space is easy.  In the next couple of posts, I'll be showing you more ways on how you can build your own special place.  Styling rules and guidelines?  Nothing really because it's your own and you can put anything you want to inspire you!  Anything that will make you smile.. something pretty, something cute, a photo of Channing Tatum perhaps? Haha.. it's your space so own it!  I'd love to see your mommy space or home office too!  Send me photos please! Tag me on Instagram @marilenph.