One of the easiest things to prepare for guests would be a nice scrumptious healthy cheese board. Who doesn't love cheese?! What I like about cheese boards is the no- fuss preparation it entails and the versatility of it! Cheese boards can be served at any time of the day, for any occasion and can be nutrient packed as well! I've put together a few quick guidelines on how to prepare a healthy scrumptious cheese board.
Get the basic serveware for a cheese platter.
You'll need a cheese board which is simply any surface that you can use to serve your cheese with. Some types of cheese boards can be any of the following:
– A metal cheese board made of cast iron, copper or anything of the sort. I like this feast platter from Crate and Barrel.
– A wooden or bamboo cheese platter. You can choose to be a bit nomadic and get any nice chunk of wood, smoothen it, and oil it up with some olive oil. Don't forget to give it a good clean! If you prefer to join this millennium purchase one from your local home stores! There are tons of cheese boards to select from Amazon!
– A stone cheese board made of slate, marble or granite. Tip: Make a giant cheese board for a huge number of guest by using a big floor tile of 24″ x 24″! I like this stone cheese board from Habitat Home.
2. Cheese knives and servers: There are a variety of different cheese knives and they usually come in sets of three. I found a lot of options from Crate and Barrel.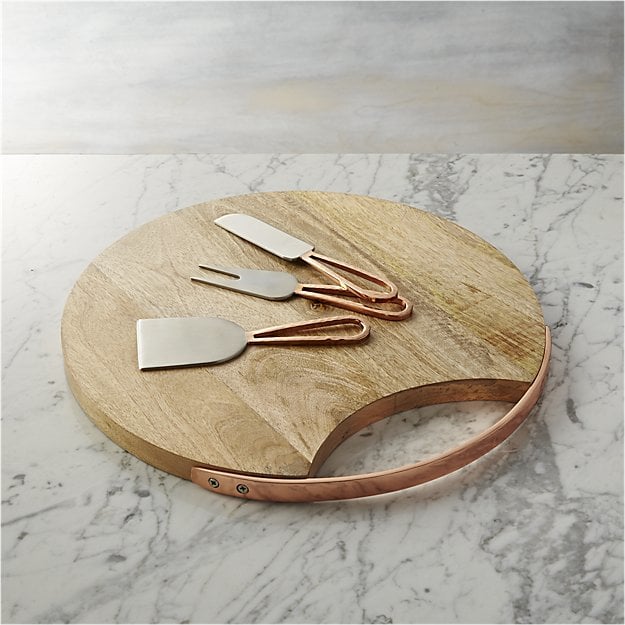 3. Last but not the least would be all the food you would need to fill your cheese board. Here are some ideas:
– A minimum of about 2-3 different types of cheese.
– About 2 different kinds of nuts. Think of using almonds, walnuts, pecans or macadamia.
– About 2 – 3 kinds of fruit like fresh figs, apricots, grapes and berries. Dried fruit make good options too.
– At least 2 kinds of crackers for soft cheese.
– Optional stuff include: artisan chocolates, truffles, cherry tomatoes, fresh herbs like basil leaves, other veggies like asparagus, cucumber and some cured meat.
The nice thing about a cheese platter is that you get almost every type of food group in one platter. Cheese and nuts are filled with protein. You can get fiber, vitamins and minerals from fruit, veggies and healthy seed or good grain crackers too! It is so easy to prepare and will go with any time of the day. Pair it with wine and bubbly for an evening gathering or serve with tea for breakfast or afternoon tea! Pack all the food and serveware in take away container and bring it with you for a picnic or boat ride if you want a nice day out! Hope you all enjoy making those cheese boards!!
Inspired? Pin this!