How are you all? I just came home from a great vacation with family and friends on one of the most beautiful islands in the country.  Now I have to catch up with blogging.  I'm coming up with a new section in my blog where I will feature hot homes and their owners..  The idea came to me when I saw a social media post by a very kind friend of mine, Jigs Mayuga.  He was fixing his new home and I was so thrilled when he agreed to have me feature it.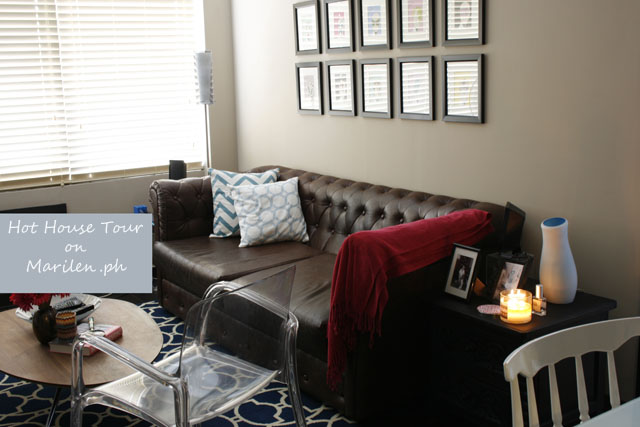 The home of Jigs and George is  uniquely decorated with a quirky, tasteful and eclectic style.  Showcasing his former life as a flight attendant, Jigs now displays his current profession as one of the country's best makeup artist through the makeup books that standout in his wall unit.  Jigs has lived in condominiums for the last few years of his life and has mastered the art of utilizing small spaces.  He gets his inspiration from Domino magazine, something that he has collected since their maiden issue to the time they folded.  He does have his own artistic streak as manifested in his career of makeup.  This reflects in the way he decorated his home as well.  "I'm not really a design by numbers type of guy, I usually just trust my instincts and luckily, it works.", shares Jigs.
The Living and Dining Room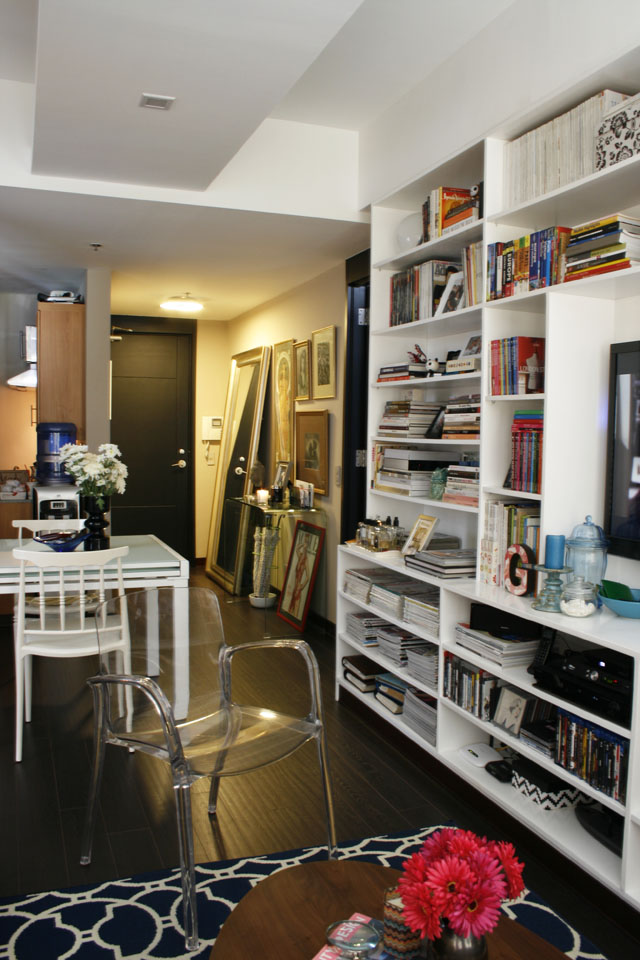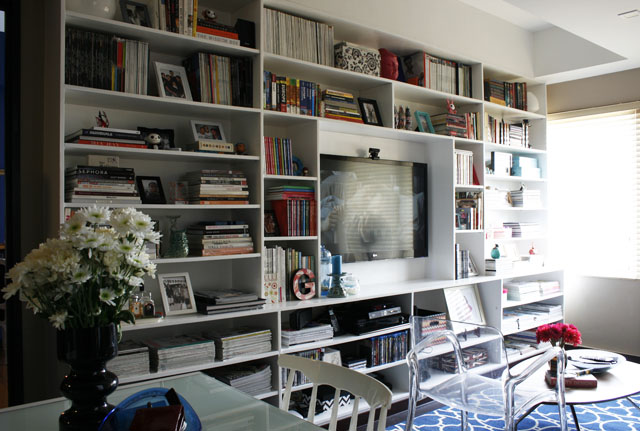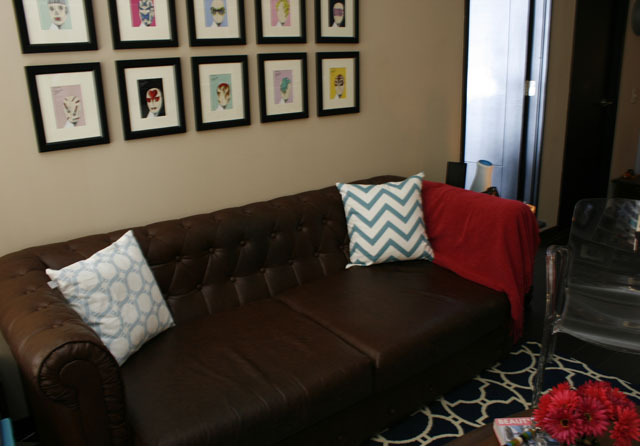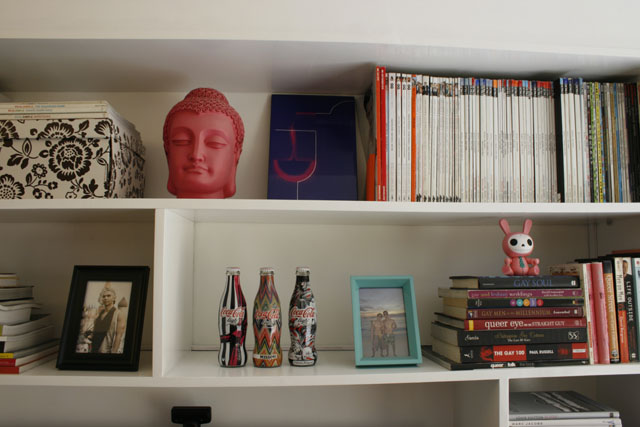 Marilen:  Tell us about the book shelf that highlights your living room? How did you come up with its concept and color?
Jigs:  I collect tons of magazines and books and finding a way to display them without making it look cluttered was a real challenge in our previous condo rental. I wanted shelves in the living room to house our entertainment system as well as photos, boxes and all our reading material since an entertainment console would take up so much precious space and wouldn't hold as much storage space. As you know, storage space is prime real estate in condos. I discussed with my contractor and showed him possible designs from photos on the internet but i really just wanted it to be white. It was constructed on one side of our living room wall and it was perfect!
Marilen:  I love your leather sofa! Why did you pick this style?
Jigs:  The sofa was custom-made from Crossings. We picked out a Chesterfield sofa in a masculine worn leather finish just to balance out the soft decor in the living room.
The Master Bedroom
The dark blue color of Jigs' bedroom is called Ming Vase from Ace Hardware.  It adds an elegant yet inviting mood to the room.  His furniture is mostly re- purposed furniture from thrift shops.  It takes a good eye, and lots of determination to acquire and revamp old pieces like these.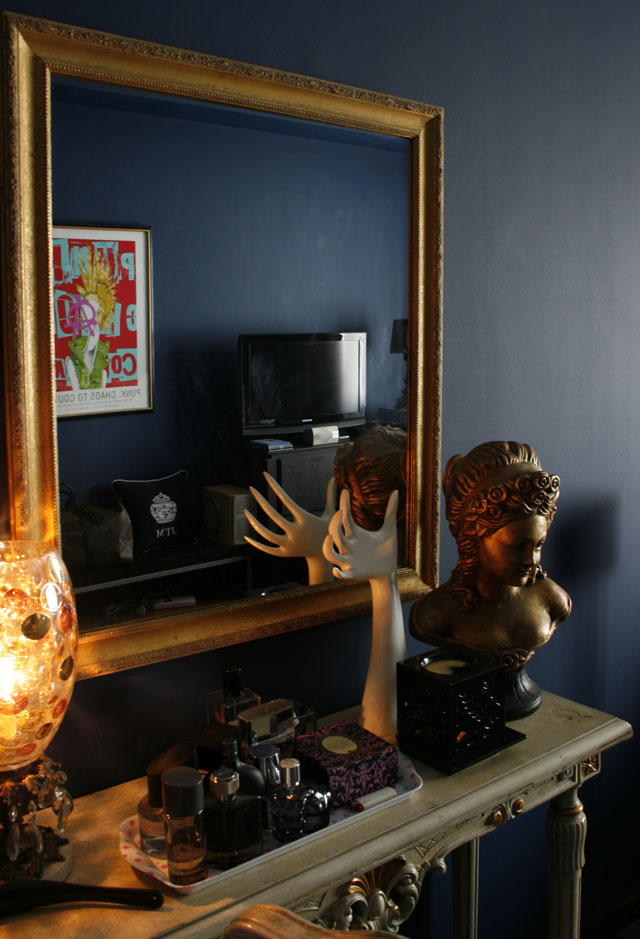 Marilen:  Tell us about your fabulous finds from second-hand thrift shops.. How much did you get the pieces for and where did you have them refurbished?
Jigs:  I love scouring second-hand stores and thrift shops in Evangelista and Kamuning with my good friend Pam Quinones. Most items are a steal if you know how to bargain and each piece is unique so you know you won't find it anywhere else. The Chair i bought 6 years ago in Evangelista and had it re upholstered with some brocade fabric in bought at Larry's. The mirror, table, bust and lamp are all from Kamuning which i acquired on one of my trips there with Pam. They probably all cost 12k total.
The Guest Room
The guest room unfolds with color and patterns put together in a tasteful manner, it energizes a person.  Artwork from the gallery at Cubao Expo, a collection of Funko Pop dolls, and comic books well-preserved are just but some of the things that will intrigue you.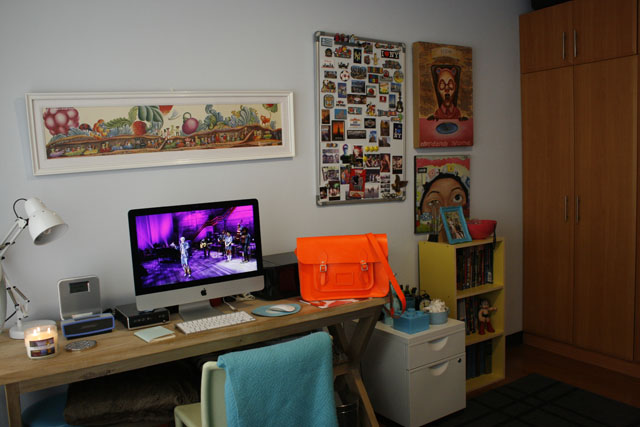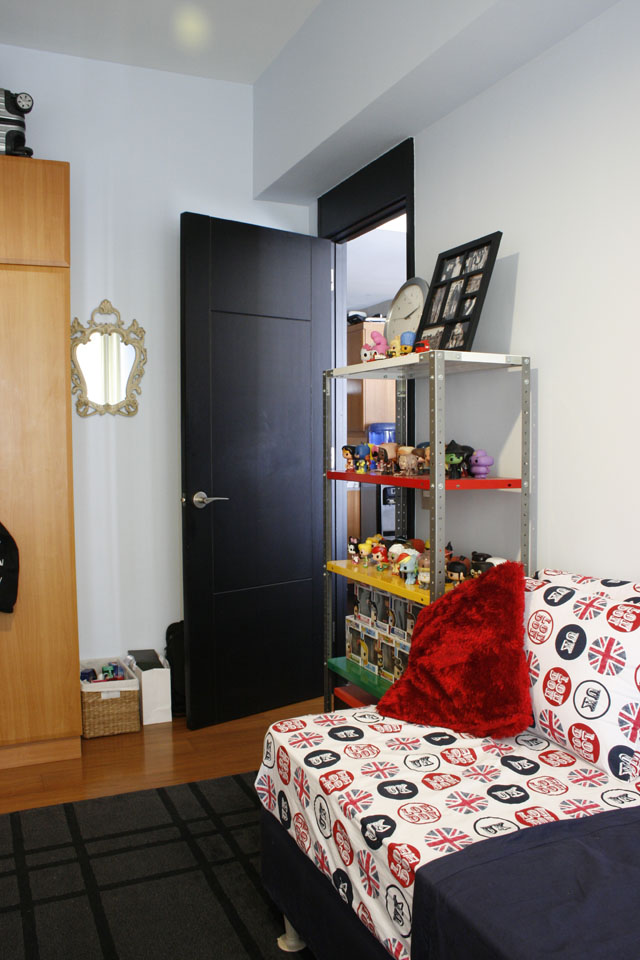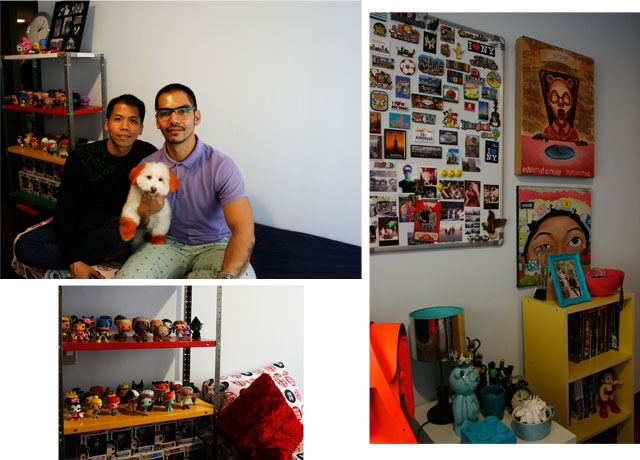 Marilen:  I have honestly never seen these cute dolls before.  Tell us about your collection.
Jigs:  I collect female Funko Pop figures. It started as a gift from my sister, Joy a couple of years back. She gave me Batgirl and then Wonder Woman. Soon after a bride who i worked with, Jillette who eventually became my good friend made a super sweet gesture of giving me 6 more as a present. That's when i seriously considered collecting all female funko figures.
Audrey, the most adorable good smelling dog ever!
The cutest puppy dog greeted me as I walked into their home and my heart instantly melted.  Her beady eyes and color highlights compliments her sweet and charming demeanor.  She even knew how to pose for the camera!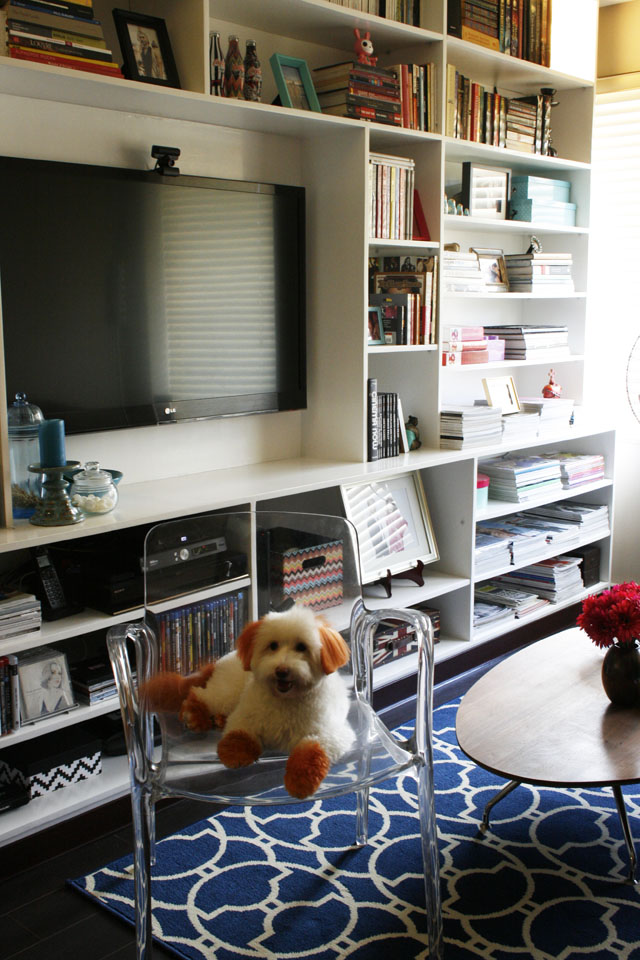 Marilen:  Audrey is the most adorable dog! How long have you had her and how does having her around impact your life?
Jigs:  We've had her for about 14 months now. She has taught me so many things about myself. The fact that she is around has changed the way we view life in general. She brings us so much unconditional joy and love.
Marilen:  Any tips for animal lovers and condo living? Maintenance and cleaning etc?
Jigs:  Be patient with your pet and take the time to train them so you can live harmoniously in your condo. The rewards are boundless. And always take them out for a walk. Everyday if possible.
Marilen:  Describe a typical day in the life of Jigs Mayuga.
Jigs:  Everyday is different since i do freelance work but i always make it a point to workout, eat healthy and spend time with family and friends. It's nice to come home to a beautiful space everyday with your loves ones.
Marilen:   What was your biggest challenge in decorating this space?
Jigs:  Waterproofing the guest bedroom. I purchased the unit from a previous owner and there was a leak from the corner of the ceiling that had damaged the existing wood floor and caused bubbles to the paint while we were renovating. Luckily we were able to fix it in time. The floor we just covered with an area rug to camouflage the damage since we didn't have budget for new flooring in the guest bedroom.
Thank you Jigs for allowing me to feature your home! I enjoyed every detail.  This home tour was also very special to me because a good friend of mine, Marty Ilagan agreed to give me a crash course on photographing interiors.  I learned to use a tripod, how to utilize natural light, and how to frame photos and make sure all lines were straight and defined.  Thank you Marty!
Hope you enjoy this Hot Home Tour!