There are days when I wake up feeling blah!  Is that even a word? I can't find the right term for it.. but you know those days when you just want to stay in bed, you can't think of anything to wear and you are lazy to groom yourself?  Yes I've had some of those and sometimes a cup of freshly squeezed juice or coffee works but what seems to always get me excited is the thought of using my Happy Skin makeup!  The pretty packaging just induces positive vibes, and the quality of the products itself is something I truly love.
Things just got sweeter and I can almost smell those fresh flowers!  They just launched their newest collection Beauty in Bloom.  I never used to wear floral.  I love flowers but the thought of a floral outfit and floral fabric for interiors.. cringe!  But after attending the Happy Skin event last Thursday at Le Jardin in BGC, I was in flower dreamland!  I am now obsessing over anything floral!
I've already tried using the Shut Up and Kiss Me Lip and Cheek Mousse.  Was so delighted to see that my favorite Happy Skin lip color, Morning After was in the duo pack.   I was at the beach yesterday and I was pleased to see that those two tiny dots of cheek mousse that I spread on my face lasted the entire day!
If you like the more traditional lipstick, they also come in the pretty Beauty in Bloom packaging.  One of their best sellers, this moisturizing lippie comes in delicate pink hues called Hold My Hand and Bride to Be.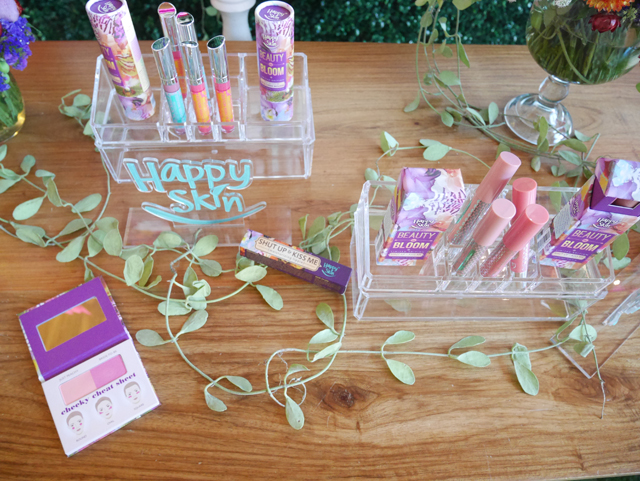 I love the new Get Cheeky With Me Beauty in Bloom 2 in 1 blush that comes with a cheeky Cheat Sheet in the inside packaging. Like a flush of first love, Just Peachy and Bride-to-be is just as shy and sweet.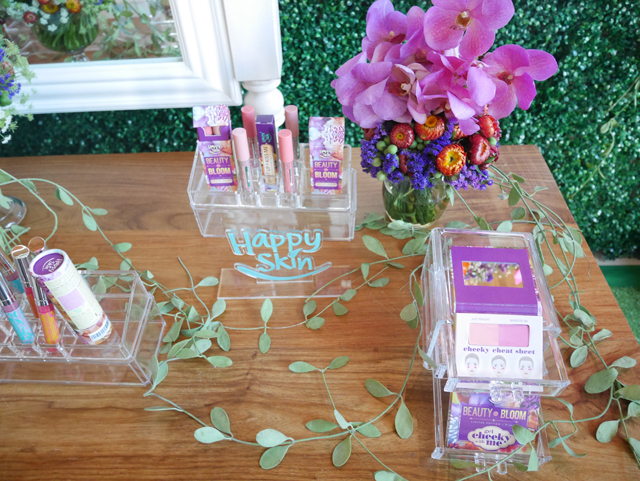 I was curious about a new product they had called Insta Beauty Blur Cream.   I already hold stock of their ZZ cream so I was happy to learn that this can go under it. Insta Beauty Blur Cream is a soft focus primer foundation that refines large pores and fills in lines & wrinkles.  It is the perfect base for your foundation to glide over. You can use it alone too if you have good complexion.
Lastly they also lunched the Eye Am The One Holy Grail Mascara. I read something that you can skip all the other makeup but never your mascara and lip gloss.  I must confess, I don't always put mascara because it is so hard to remove.  Everything comes off with regular face soap but good mascara that holds and does not droop won't!  That it why I am so amazed by this product which promises long curled lashes that you can remove with just warm water!
Here are more shots of the event which was a pleasant gathering of friends, blooms and good conversation.
Just to prove to you that I am really struck by the flower fever.. here are some gorgeous interiors in floral that I am now crushing on.  You can use floral in any space just follow these photos of inspiration.
The easiest way to add floral would be to use them on accent chairs.  This floral upholstery looks amazing in this chair from rstyle.me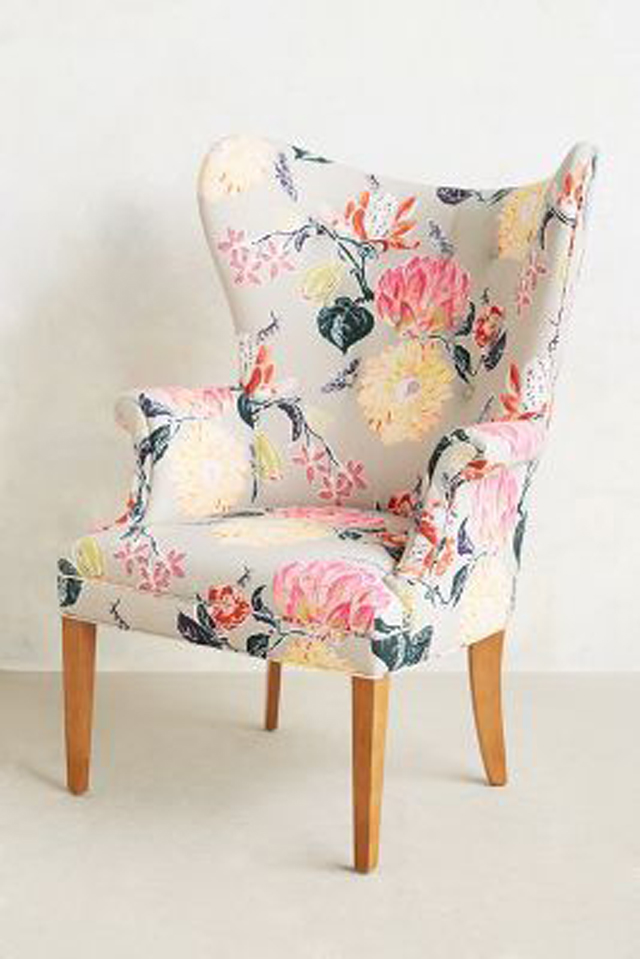 You can also add cheer and sweetness by using blooms for your throw pillows and combing them with a rug that is just as pretty.  This rug from a Dutch store called Rozenkelim is too gorgeous.  It may not look as good if it were alone, but because it was combined with everything floral it is perfect!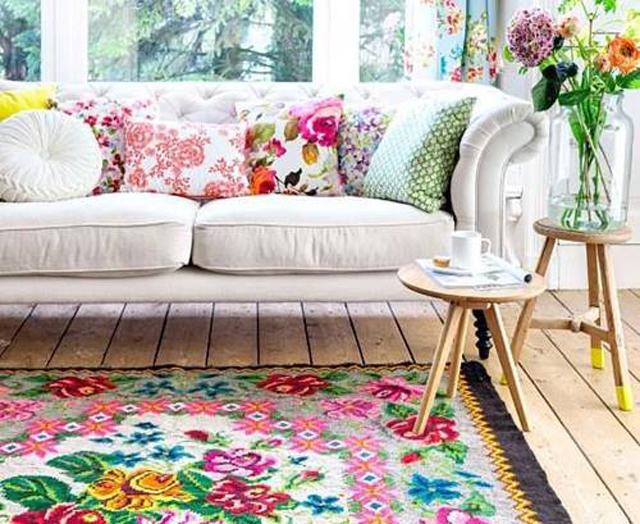 How about a staircase in full bloom with the prettiest floral cuts of wall paper? You can find these in any wall paper store, go bold, mix and match those bright colors to achieve a full effect just like this staircase from homedit.com.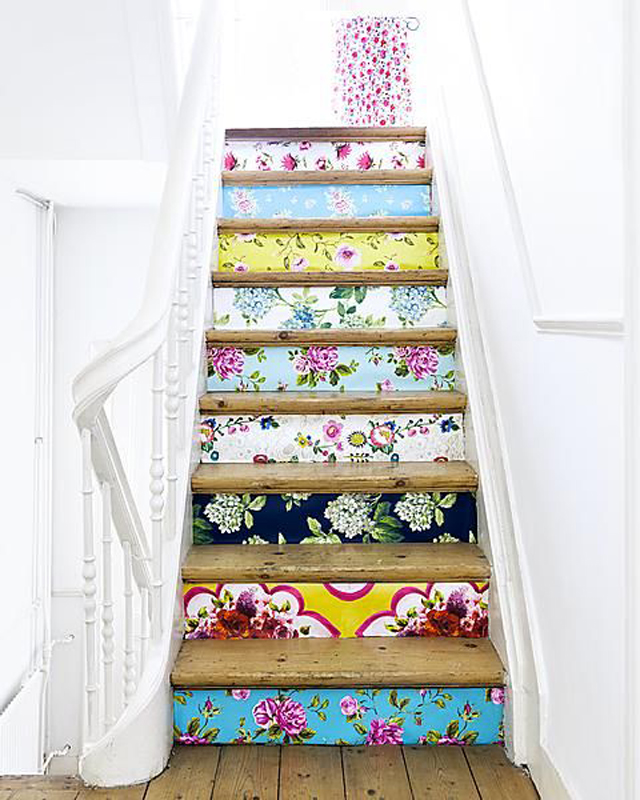 Another easy way to add floral to your space would be by using floral bed sheets.  It works best when you don't go with just one set of design but rather mix and match several sets to make things more interesting.  This bedroom from bloglovn combined solid colors with her printed floral sheets.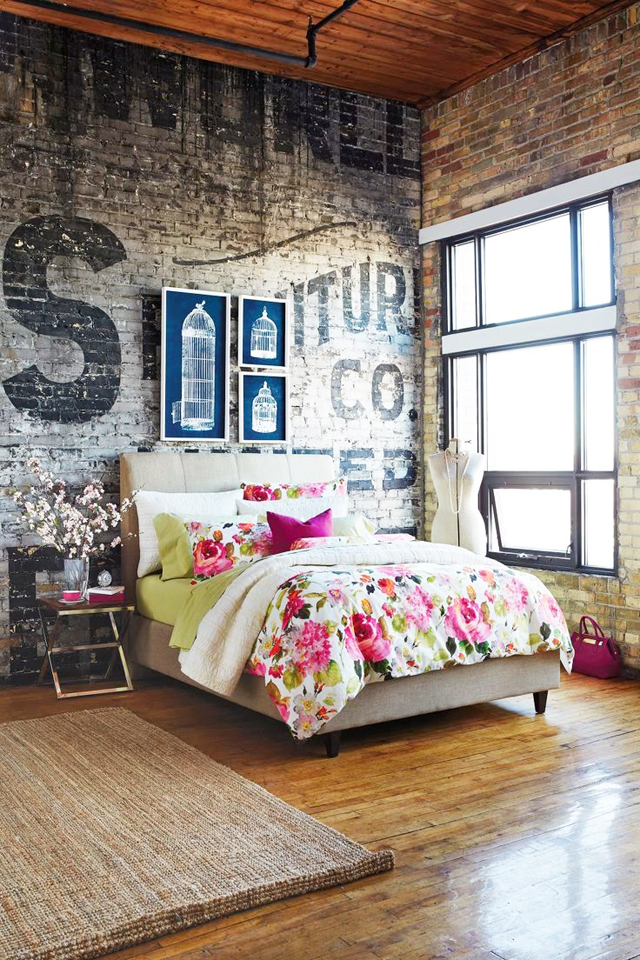 I can't get enough of all the mix and match floral!  I can't get enough of pretty packaged good makeup too!  I hope you're feeling the spring fever just like I am.  Go to Happyskincosmetics.com to see where you can buy this amazing makeup line now!