Decorating Your Kid's Room
Creating your child's bedroom can be something fun for you and your kids.  In reality, there are no rules when it comes to decorating for them.  You can have fun and let your imagination run wild, while still incorporating function and taste.  I've compiled some important guidelines for those of you that love to decorate but don't know where to start.
1.Consider your child's age and interest
There are many options you can use for decorating like wallpaper, stickers, murals, stencils and artwork but the key is in knowing what you want your theme to be.  Picking a focal wall as a main spot for your design often helps.  I usually like to use the headboard wall.  You can then repeat portions of this design in various areas of your room like cabinets and shelves.
You don't always have to go for a theme.  Try playing with color, and experimenting with texture to splash on various areas of the room.
2. Go easy on the furniture
The beauty of designing kid's rooms is that there are no rules when it comes to furniture.  You will save a ton on cash if you learn to re use and revamp your old vintage pieces.  You can always paint them in interesting colors, and even cut off parts that you don't like.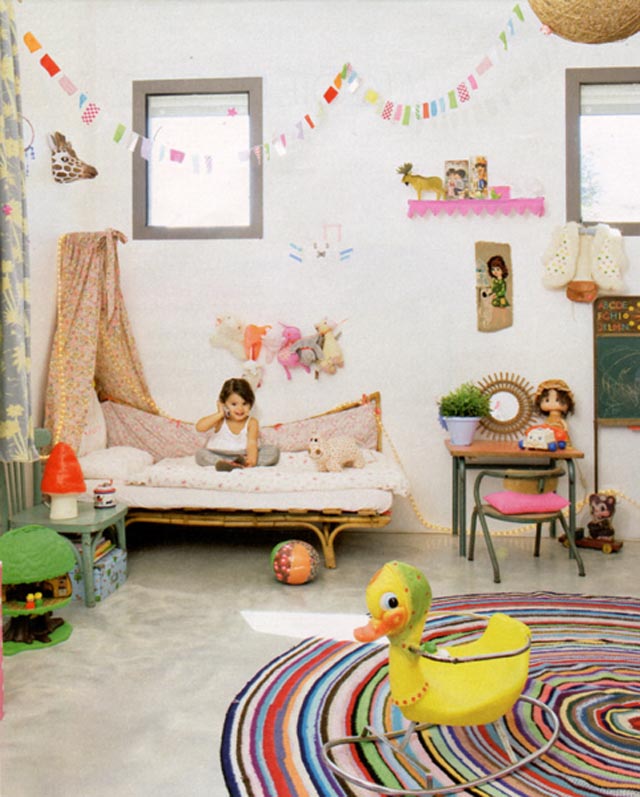 3.  Consider child's safety and needs
Planning a kid's room can be fun but carefully select materials for younger ones.  It is best to use wood flooring or laminated wood which is a cheaper alternative.  It is synthetic, and very easy to clean.  Hard flooring like tiles can be dangerous for young kids who like to run around.  Carpet may be soft but gathers dust and mites which may trigger allergies.  If your child has asthma, it will be a good idea to use vinyl roll up blinds or wooden shades as an alternative to fabric curtains.
Young kids often need a lamp or night light that they can leave on.  You can be creative by cutting out patterns and shapes and attaching them to the shade so that the light goes through it.
Reinforcing good study habits can also be done by providing a functional study desk in the room and keeping television sets in other areas.
There are no rules with regards to color, as long as it is something your child will love.  Odorless paint is now available in most home depots making the painting process quicker.  Careful planning of materials to be used, along with an endless dose of imagination is all you need to design your kid's bedroom.