I had the luxury of time to attend a very interesting event called Deco Talks by Elle Decoration Philippines last April 5.  With the many artists and designers marking their names in the global world of design, the Philippines is slowly being recognized across the globe.  Elle Decoration with Proscenium at Rockwell celebrates our nation's growing influence by launching Deco Talks, a series of special panel discussions on the state of Filipino design.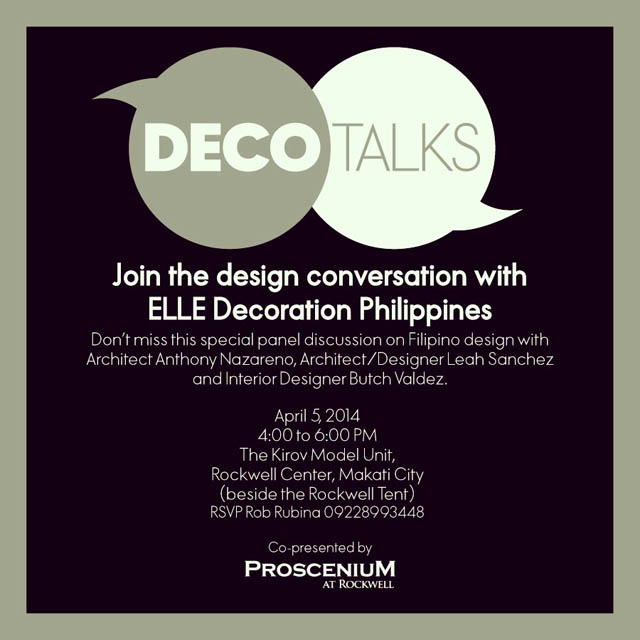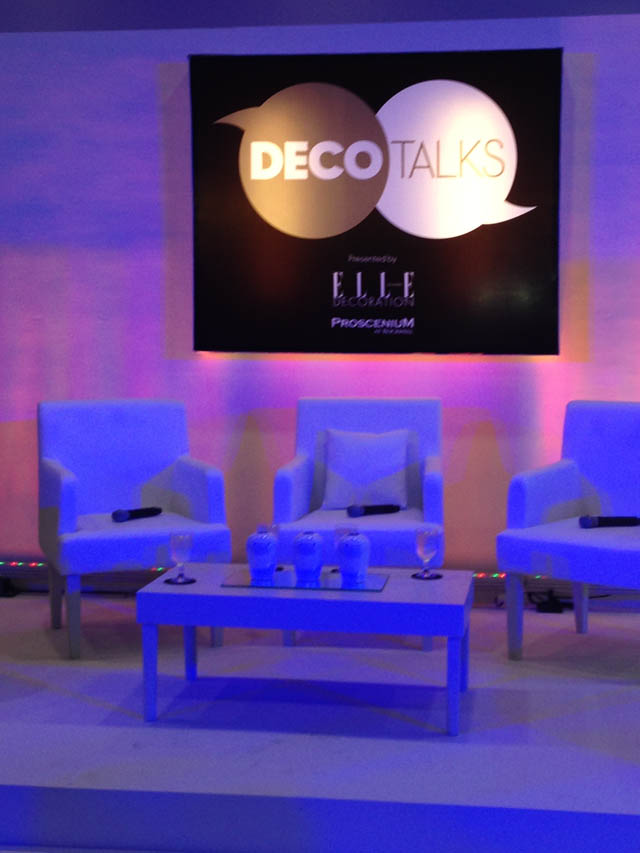 It was an interesting discussion as they brought together three industry experts to probe on the state of Philippine design and how our list of renowned architects, interiors designers, and furniture makers are redefining the Filipino design aesthetic in our present times.  "Elle Decoration's Deco Talks series aims to shine a spotlight on the Philippine's global impact on the design world by highlighting the visionary work of the country's design stars and rising talents", says Tom Castaneda who is Elle Decoration's associate publisher.
The chic setup for the event was held at the Proscenium model unit in Rockwell and was intimately designed to sit the three distinguished panelist.
Interior designer Guillermo "Butch" Valdez moved to the United States and began his career as a draftsman.  His talent and passion has paid off as he is now based in California doing international work such as the Peninsula Hotel in Bangkok.  Butch has an amazing eye for design and has been working with Rockwell Land on esteemed projects like the Joya Lofts and Towers, Edades Tower and Garden Villas, and recently the Lopez Tower.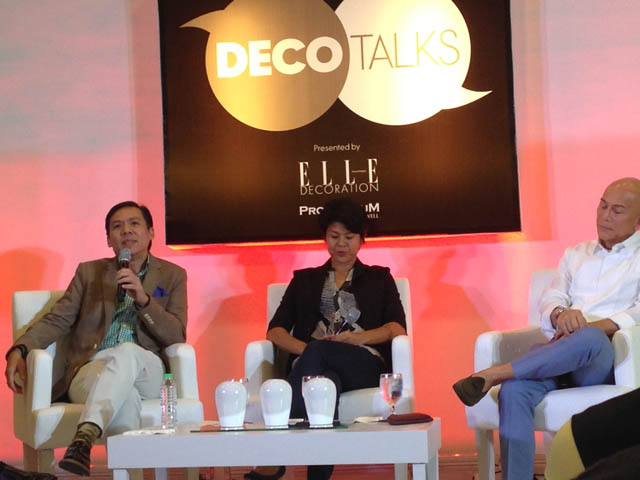 Architect and furniture designer Leah Sanchez was a perfect balance to the two male panelists.  She specializes in low- rise structures and has done a number of projects in beach environments.  When asked why she liked doing beach architecture she says  "Because it has no pretentions, it is all about structure and working with the environment around it."  Leah is also co owner of Resurrection Furniture and Found Objects Gallery, they specialize in up cycled art furniture, breathing life into vintage pieces.
The third panelist was architect Anthony Nazareno who was a graduate of the California College of Arts in Berkeley.  He started his design career in San Francisco with celebrated modernist architect Jim Jennings.  Nazareno relates that Jim Jennings was simply respectable as "He saw the outdoors as part of architecture.  He had respect for the environment."  Anthony later on joined Li – Saltzman, a leading architecture firm in New York that specializes in the preservation and conservation of landmark architecture.  Today he serves as president of his own company creating various projects in the Philippines and oversees.
Allow me to share with you some parts of the discussion which caught my interest:
I loved Mr. Butch Valdez's explanation to the question What are the current trends in terms of luxury design because it reflected what I truly believe in as well.  He proceeded to explain that  " Style doesn't mean you need to have a lot of money.  It can not be taught, you either have it or you don't.  Luxury doesn't have anything to do with furniture or expensive fabric.  Space is a luxury.  Luxury is how you make the most of what you have."
The panelist were asked to talk about where they think Philippine design will be in the next 5 years.  The apparent consensus was that Filipinos are slowly building an identity in terms of architecture.  "Filipinos will find that niche– a distinction of who we are." says Anthony Nazareno.
When asked what the difference was about working in the United States compared to the Philippines, Butch Valdez says that in the United States they are spoiled with limitless resources but he was quick to say that Filipinos have become more fun to work with.  They are more design savvy.  Leah Bautista accredits this to the internet and publications like Elle Decor where people can quickly indulge in design and current trends.  "Today more people have a modern design philosophy, clients know what they want but you still set the pace." says Anthony Nazareno.
It was a great afternoon of short concise knowledge about design and architecture.  I learned a lot of new insight and it was interesting to get bits and pieces of how the panelist practiced their professions.  Looking forward to more Deco Talks in the future!