Bedtime.. my favorite time of the day. Sleep.. how I wish I could have more of it, but it remains to be a challenge. There is simply not enough time to work on the different things I am doing so sadly sleep is sacrificed. It's now past 12am and I am typing away enjoying this blog post. Then there is mommy guilt. If you're a mother like me, I am pretty sure you know what I mean. I hope you do, because if you don't then there must be something wrong with me! We all need more sleep and while thinking of a topic to blog I thought of sharing some tips that might hopefully make your bedroom a better place to sleep in.
1. Make your bedroom neat and clutter free.
Are you seeing the beauty in this bare room from A house in the hills? I know this may be the most challenging and I still haven't perfected this. As much as I tried to put things in pretty storage boxes unsightly belongings still made itself visible. We're moving into our new house soon and this time I am determined to make it more organized and beautiful. I mean, if other women can keep their homes picture perfect.. we can too right? A clean simple room equals a clear mind and better sleep.
2. Invest in good sheets and linen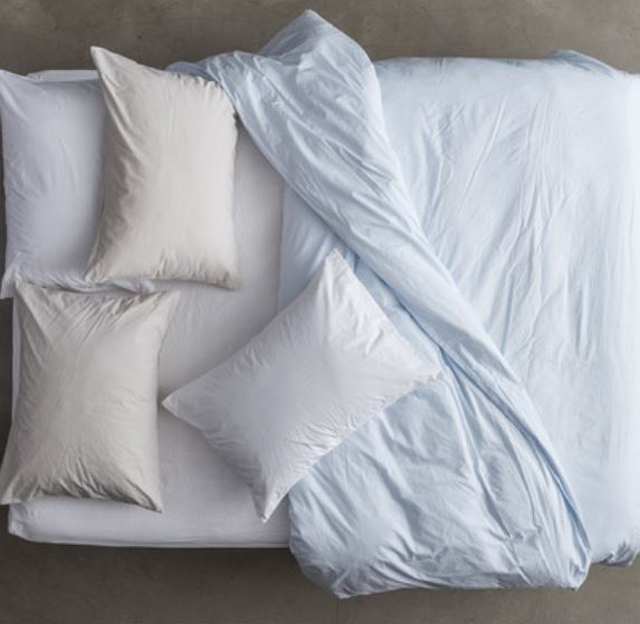 Notice how cozy and inviting the bed on top from The line in New York looks? I'm convinced that good sheets and comforters in layers make the bed more cozy. I love good quality sheets and have found reasonably priced ones in Manila from S&R. I also like to mix and match plain colors and personally don't go for printed ones. See how 3 colors were put together on the photo above from Parachute Home.
3. Style Your Bedroom With Art That You'll Love.
As an interior stylist I see the importance of art work and the role it plays in uplifting the spirit so they key is to put art prints that you truly love. Those that make your heart smile and something you know you won't grow tired of will go a long way to helping you love your own bedroom. I fell in love with the Scandinavian print in this bedroom from Insideout. So pretty right?!
4. Use Calming Colors for Your Bedroom.
Soothing colors that relax the soul is the way to go for bedrooms. Neutrals, white, grey, light greens, blues and pinks will help you relax and sleep better. Avoiding bright colors like red, orange, yellow because they encourage energy is a good rule to observe when styling bedrooms. Loving the blush pink grey and copper combination from A little opulent
It's now 1 am and I am feeling quite sleepy. Hope you have a good night's sleep so you can get working on your own bedroom too!:)