I used to do a lot of crafts using felt.  I made little toys and a quiet book for my kids.  This time I thought of making a Christmas tree ornament.  My son was very intrigued with the process and had a lot of fun playing with my spools of thread.  I admit it somewhat got to my nerves, but I had to remind myself to let go and let him have fun!  Here's how I did my candy cane..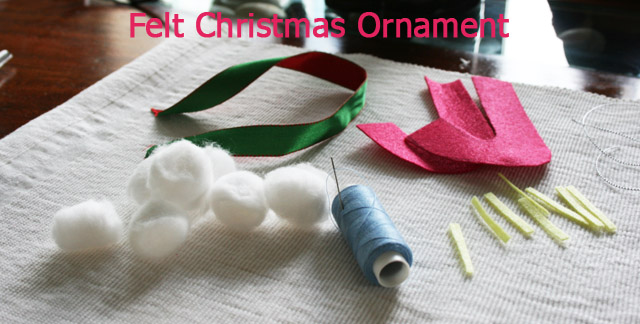 Gather materials.  You will need:
2 felt cut outs of a candy cane
cotton balls
more felt of a contrasting color cut into thin strips
needle
colored thread in a bright color
ribbons
thin silver thread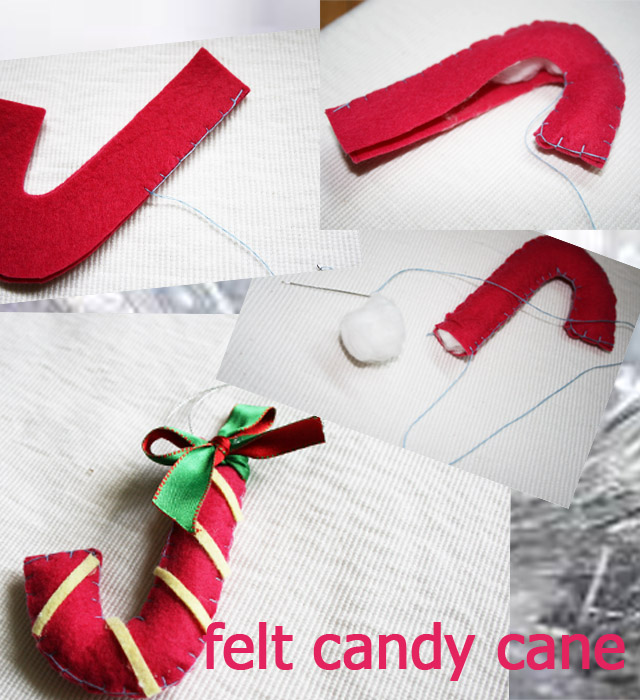 Put it Together:
1. Sew your two pieces of felt together with a blanket stitch.  I like to use a bright thread color so that it pops out more.
2. Put cotton balls into the curve before you sew and close that portion.
3. Continue sewing on all sides and put more cotton to fill the candy cane from the top.
4. Sew the rest of the candy cane.
5. Attach the strips of felt to make the stripes with a glue gun.
6. Tie a ribbon on the top and secure it with a glue gun.
7. Attach your silver thread on the top so you can hang it.
It really is very simple to do. I bought my felt fabric from Carolinas. For those of you that don't like to sew, you can make it one-dimensional and just add everything with glue!  Beads, sequins, buttons, are just but some of the things your can use to adorn your own ornaments.  Happy crafting, happy Christmas!