It's always nice to wake up in a bedroom that looks pretty and inspiring. Did you know that you can change the way your room looks and make it beautiful in five minutes? I've been wanting to work on styling our bedroom but never got the chance to do so until last week. After months of thinking I should make our room look prettier, I finally got inspired to create a makeover on the first night I slept in new bed sheets from Butterfly Dreams. They are the softest most luxurious linen made from the finest fibers. They keep me perfectly warm and I've been sleeping soundly. These shrink resistant, no formaldehyde, machine washable linen is simply heavenly!
It took me five minutes to create a new look for our bedroom and I'm sure you can do it too! Here's what our room looked like before. It was dull, basic and uninspired.
Here's what it looked like after my five-minute styling makeover..
Here's how you can do it..
Get rid of all the ugly clutter. Hide them inside drawers or beautiful storage baskets.
Press or steam your linen to remove unsightly creases and to make it feel crisp. Make sure your read the care labels before you iron.
Add some texture and color by tossing some throws and blankets on top of your duvet cover. This instantly adds character and make things look ten times better.
Add some decorative cushions or throw pillows to spruce things up further. Go for a minimum of two decorative pillows for a queen and king bed.
Set up your night table. I like to put the following items in a night table:
– Night lamp
– A small tray to keep things organized and hold smaller items like your rings and watch.
– Some books or your kindle, phone or iPad
– Some flowers for a fresh inspiring look.
6. Add other items like candles, a pretty tissues box, some essential oil bottles etc. Just remember that if they don't look good, you should keep them in the drawer.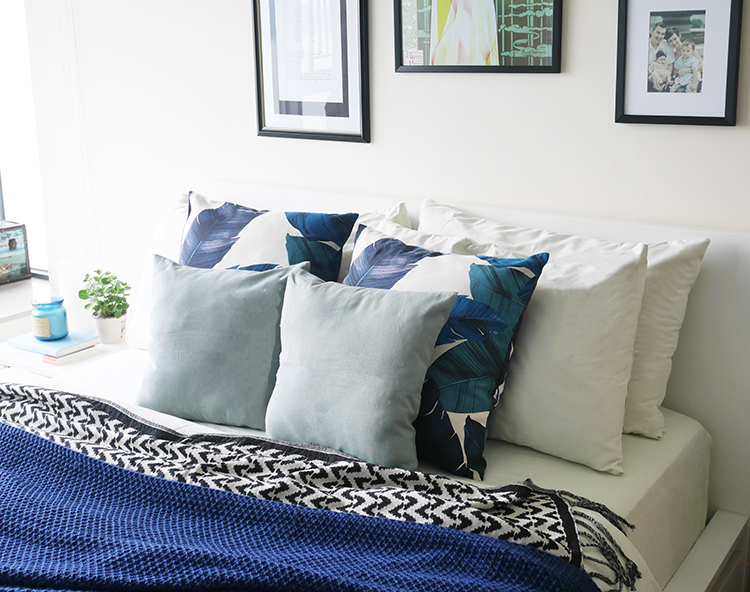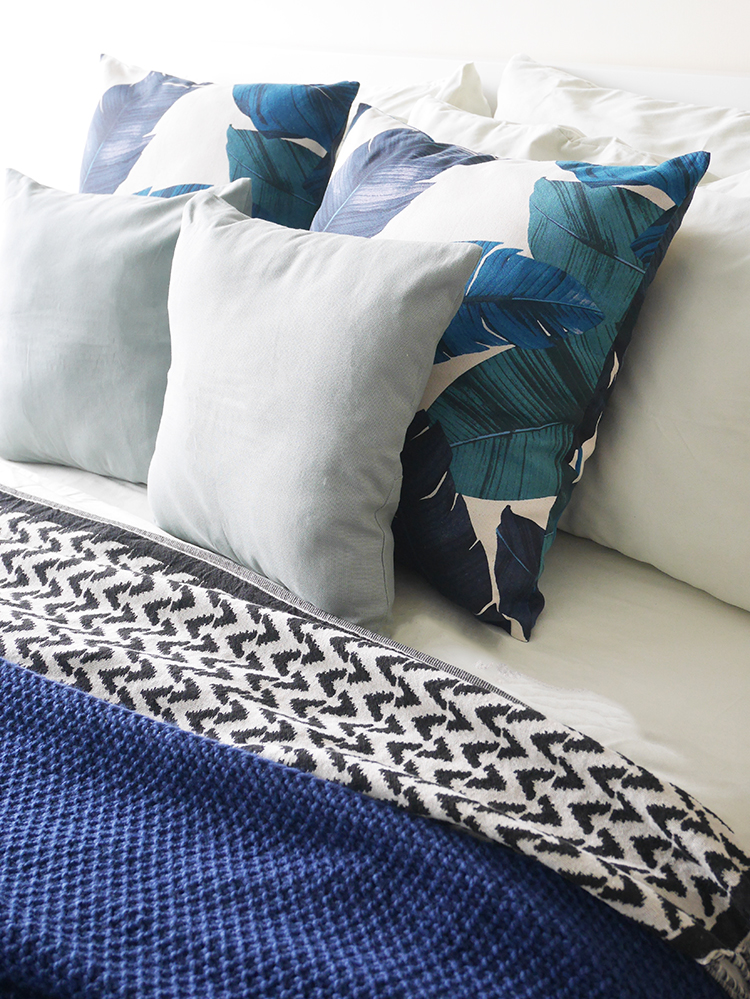 Bed throws in blue and black and white print, summer blue pillows, plain teal pillows from H&M Home. Decorative tissue box from Seek the Uniq. Mirror and metal tray, blue glass jar and ceramic jar with lid from H&M Home. Bed linen set from Butterfly Dreams.
Bed side table and white frosted lamp from Ikea. Blue Candle jar from H&M Home. Books and plant are mine!
What do you think? Now bad for a five-minute makeover right? Just remember that once you've managed to give your bedroom a new look, it won't stay that way unless you commit to keep it up! Do you want to know my secret? I put things away right after I use it. I don't leave it lying around for later and I don't just put it away anywhere either. I put things back where it belongs immediately so clutter never accumulates! More on this next time. Yaaawnnn!!! I'm going to bed! Night!
P.S. For more bedroom ideas and inspiration Visit my bedroom Pinterest Board.
Inspired? Pin this: