What a week it was! I was recovering from a nasty flu virus that struck my entire family. Work stopped for 5 days as we were all down.  My two toddlers, my husband and myself were all struck by a nasty strain of influenza. It's no fun when you are running a fever of 39.2 degrees, so glued to the bed we were.
On the bright side I had the highlight of my career yesterday when I hosted the press launch of HGTV Asia.  For those of you familiar with Home and Garden TV, I was ecstatic when they picked me!  I was also quite nervous because I was going to meet The Property Brothers! They're so awesome and drop dead gorgeous so they deserve a separate blog post.  Yes I got to talk to them for quite a while behind the scenes and I have several photos too! I promise to write about that soon, so for now I want to share with you tips on how to get your dream living room.
The living room.. it's where you lounge and relax as a family and it is also where you would normally entertain guest.  When it comes to organizing, here are some tips you might find helpful:
1. Make use of furniture that doubles as storage.
2. Add style by using big baskets, decorative boxes and crates as extra storage.
3. Keep most books hidden inside cabinets or book shelves, display only decorative coffee table books.
4. Try to hide cable wires and electrical cords inside furniture or conceal them with decorative boxes.
5. Keep flat surfaces free from clutter.
Be aware of things that can accumulate like papers, magazines, and receipts.  Without you knowing it, they can easily pile up on a table or counter leaving your space untidy.
Styling Your Living Room
Now that you've gotten a little bit organized in the living room, you can add some pretty things and make your dream space happen!  Some ways to style the living room include:
1. Add plants or flowers to bring a touch of nature indoors.  Look for small potted plants to put on top of coffee tables, or as accents in surprising place around the home.
2. Play with fun colors and prints using them on throw pillows.
3. Add some interest and spark to a boring plain wall with art work or a photo gallery.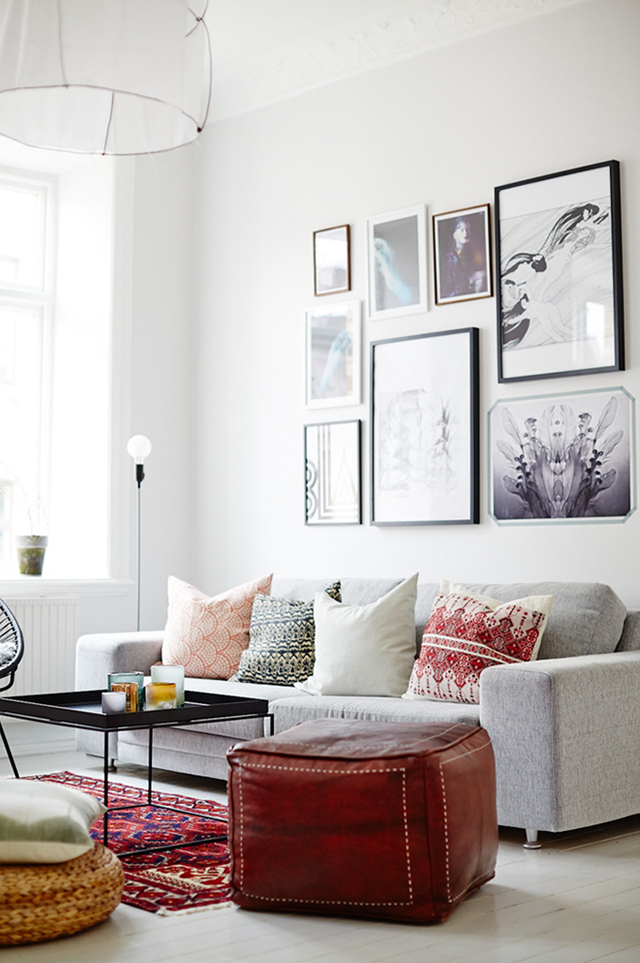 All these pictures are certainly making me go crazy! Aaaah! so many pretty things! I can't wait to fix my own living room.. we're moving into our new home soon and though we will be putting the living room together at a slow pace, I am excited! Here is the concept I had in mind but things are changing every week! Hoping this inspires you to organize and style your living room. Have a good week!