How are you coping with the holiday rush?  I spent yesterday afternoon walking to and from shops carrying paper bags to start on my shopping for family. The Christmas spirit came a bit late this year, but it is slowly settling.  It really is a wonderful time of the year where we get to thank people who have helped us in one way or another, and remind family of how special they are to us.  As a mom, I find that my excitement manifests in making Christmas a joyous occasion for my kids.  I love telling them about the Christmas story and how Jesus was born. It is Jesus' birthday!  That's something that gets them excited. They look forward to decorating the house, and anticipate the piling of gifts under the tree. Today I told them about the food and the Christmas meals!
Most people look forward to the warm banter and sharing of love that is exchanged over the Christmas table.  Families are updated on the details of each others lives, and holiday cheer fills the room.  Food is prepared with love from recipes that have become tradition and a meal is much more appreciated when beautiful decor and centerpieces complete the Christmas setting.
Here are a some Christmas table styling ideas to inspire you to fix your tables:
1. Decorate your dining drop lights or make your own hanging decoration.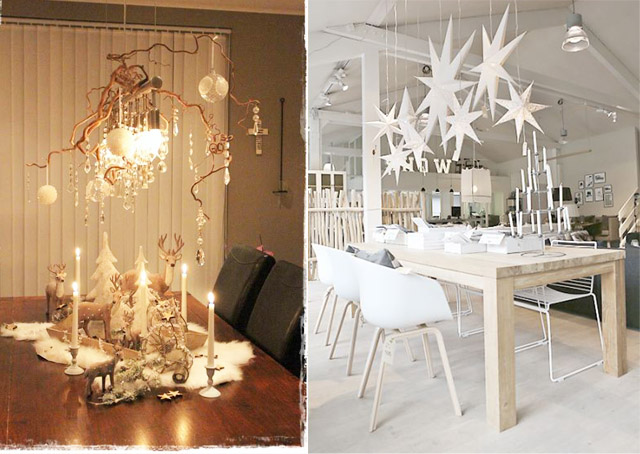 Hang twigs, vines, Christmas balls or other decor onto your dining light piece to add detail to your dining room space.  If you don't have a drop light you can simply hang your own ornaments directly from the ceiling.  Just make sure you pay attention to scale and proportion.  They should be big and dense enough to balance your dining table.
2. Style your dining chairs.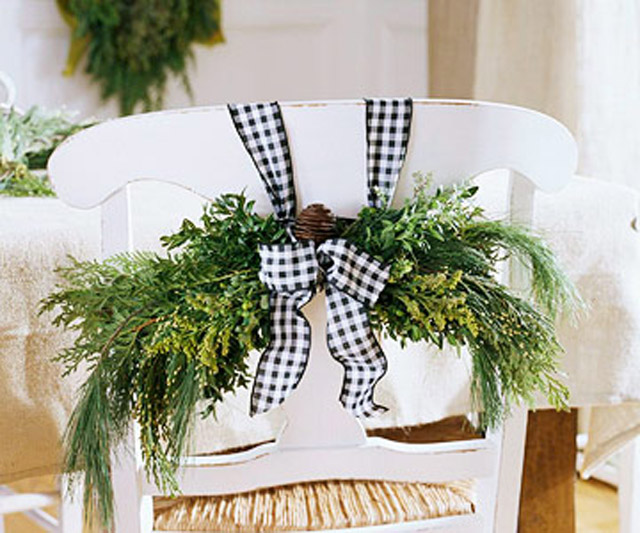 Who says decor has to stay on the table top? Add a Christmas wreathe, tie a bow, or do both!
3. Pay attention to the little details.
A setup looks much more interesting when you zero in to the details.  Add place cards to personalize things. Decorate your napkin rings to keep in with the season. I love how the cutlery were placed in stockings.
4. Use real pine cuttings or shrubs as center pieces.
I like how real plants were cut up and arranged into a centerpiece.  Other plant elements like topiary, flowers, pine cones, and twigs can be used as well.
5. Don't be afraid to use color.
Things are getting more exciting as Christmas colors are now endless!  Anything goes, and we are no longer restricted with traditional Christmas colors like red and green.
6. Consider a casual table arrangement.
I love how the plates are piled up for guest to grab, and how they are casually situated with the candles and decor.  Things don't always have to be set.
Have you thought about your Christmas dinner table yet?  Hope you get ideas from these photos, they surely inspired me to see what I can do with the things I already have.  I might grab a simple thing or two to complete my look.  Let's make things more memorable by styling our meal table!