In this busy and imperfect world, I like to escape and Pinterest takes me to a whole new place where I can forget about the million things I have to do for the week.  Children playing and eventually crying, personal problems, meetings and minor job site issues can all clutter my mind so having a moment to look at pretty things on the internet is a life saver! I eventually plan to start pinning more onto my already existing Pinterest boards but I always forget to do so unless I'm putting together a concept for one of my design projects.  Nevertheless, please follow me on Pinterest here! I fell in love, found a moment of peace and my heart did a cart- wheel when I saw these last night..
All this made me smile but what gave me comfort and peace was this Bible verse we studied with the other women and moms in our church group.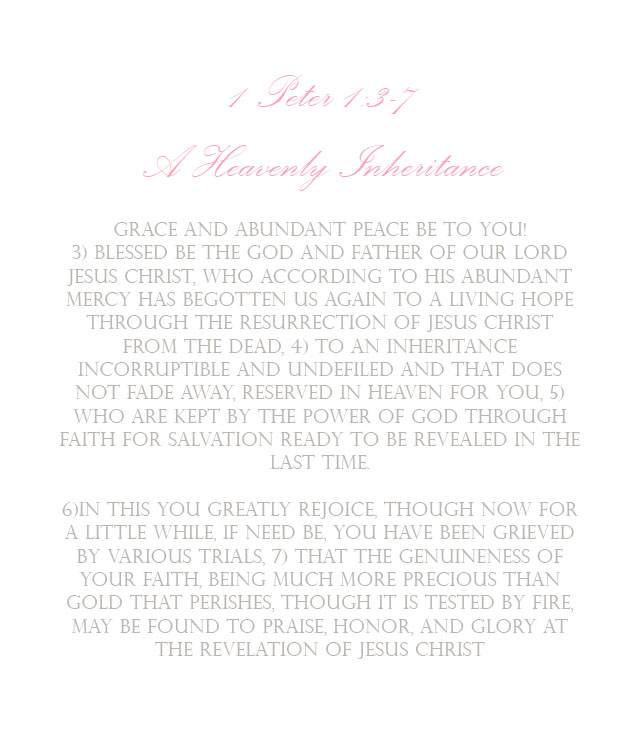 Such beautiful hope and comforting verses of truth for children of God that believe in Jesus and his power and work on the cross! What was so beautiful about is was the reminder that even if we are going through trials in this life, it is all momentary and that soon we will be going to our real home in Heaven!  It reminded me that these trials are just a test of my faith and that perhaps God wants me to be more vigilant in praying for my family. That is what really matters.. our faith which is more precious than gold so that all praise and credit goes to God in the end.
A long time ago I came to understand that our destination in the after life can be certain!  It is not dependent on how good I am, how much I give, and how often I go to church but it is all because of God's grace and putting our faith in Jesus! Trusting him (even if I do not see Him) to get me to Heaven when he died on that cross.  Ever since I came to know Jesus in that personal way, all the problems and trials are nothing serious! It's like looking at all the gorgeous Pinterest photos that make me happy, but the happiness stays! If you'd like to ask me more about this please send me a message here and I'll be glad to tell you more.
Ephesians 2:8-9 For by grace you have been saved through faith, and this is not from you; it is the gift of God; 9 it is not from works, so no one may boast.