It's been awhile since I last wrote a blog post but I am alive and eager to discuss the most popular home design trends for 2018! After spending 2 hours browsing and researching on the 2018 interior design trends, I am slowly warming up to them! You must understand that I've always been the bright and white and cheerful kinda girl. You should know by the looks of my blog and all the elegant pinks. This year there are so many up and coming design trends and I must admit I cringed a bit!
Pattern and Textile: Chintz
I don't own a single small floral patterned piece in my wardrobe and I hardly even have prints in my closet but this year you will be seeing a lot of pattern in chintz. Originating from India, chintz is an intricate floral pattern usually in glazed fabric. I could probably learn to love it when used sparingly as accents in the home, particularly an accent wallpaper, and cushions.
This arm-chair sits in the Madison Avenue apartment of designer Kate Rheinstein Brodsky. Photo via: One kings Lane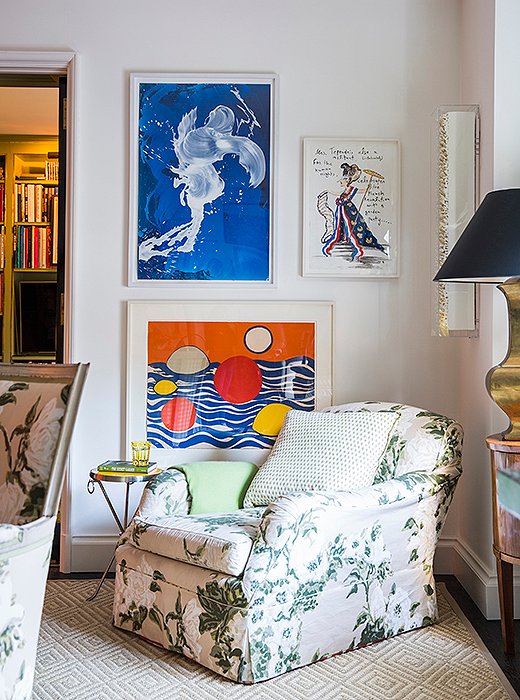 Pale chintz contrast deep olive walls (another 2018 color trend) in David Oliver and Vere Greeney's London home. Photo via: The New York Times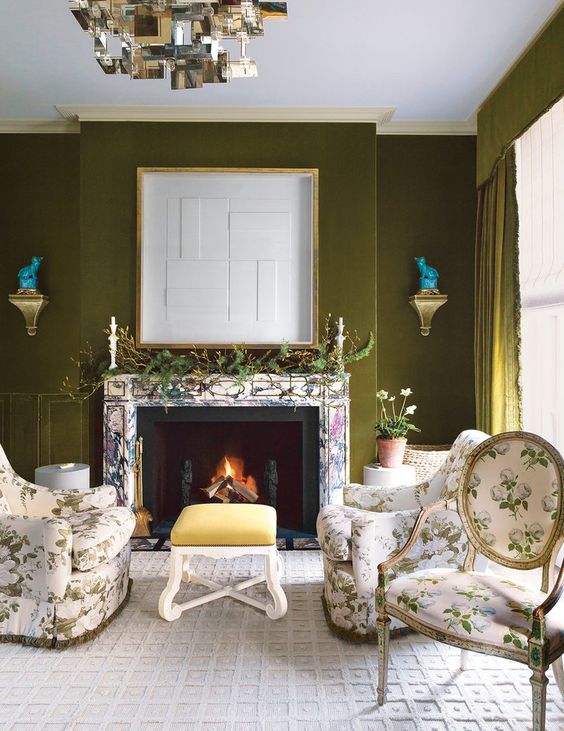 Emerging Colors
Luxurious, elegant, warm, provocative and bright are adjectives to keep in mind for this year. Gone are the whites and the beige and the griege. Think bold bright happy but mysterious. Oceanside was a forecast by Sherwin Williams, and other colors like deep mustard yellows and greens come to play.
Vogue.com interviewed a few sought- after designers in an article.
"I think we're going to see a lot of yellow in 2018, particularly an earthy, ochre-y yellow. It's a shade that will brighten a room but isn't at all that '70s yellow we remember. It's a modern neutral that's far from boring."
—Peter Dunham
"We are seeing a big return to bright and clear colors . . . people are so over gray, beige, and greige!"
—Timothy Corrigan
"Beige interiors are banished, making way for color and pattern, and the forgotten ceiling is now a decorating playground ready to be wallpapered, lacquered, gilded, or plastered with abandon."
—Martyn Lawrence Bullard
Loving this room from interiors addict via The Guardian. The use of intense but bold colors are perfect.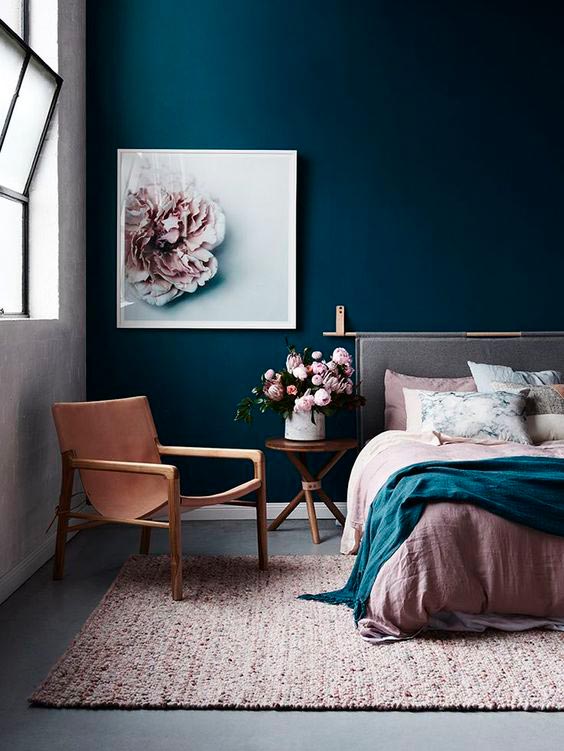 Bright colors, cotton velvet fabric and a curated look make this space a top 2018 design ideal. Photo via: Vogue Living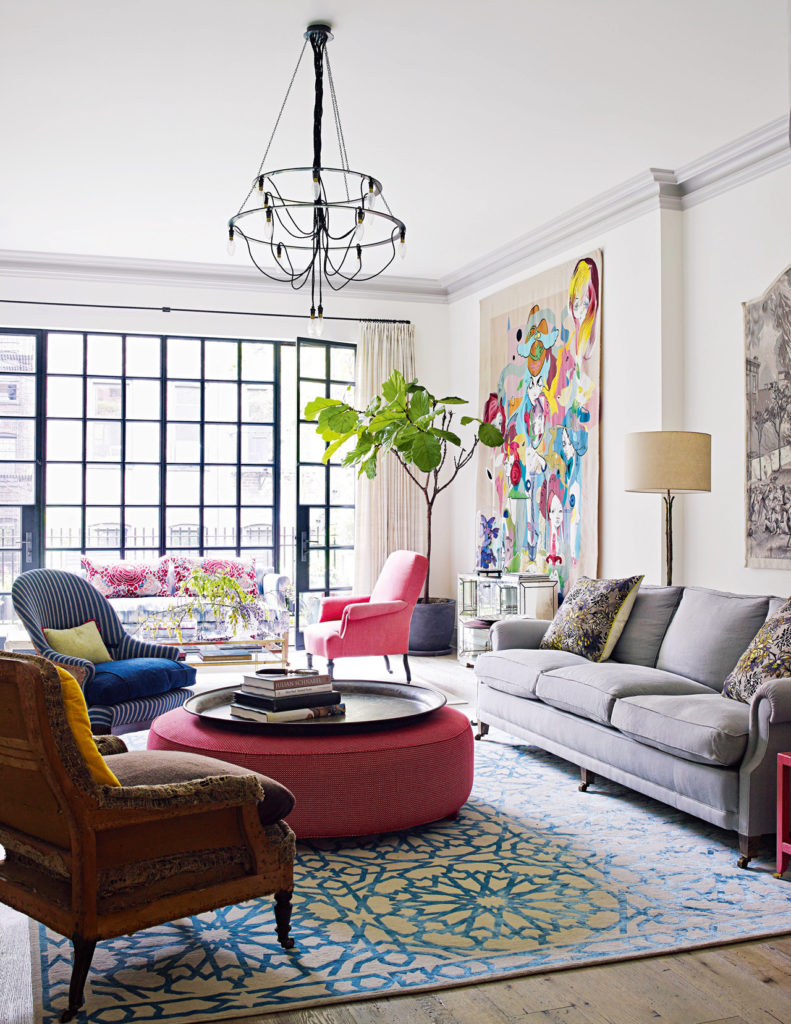 Color of The Year: Pantone Ultra Violet
Described as inventive and imaginative, this color is all about vision, new things and the future.
"The Pantone Color of the Year has come to mean so much more than 'what's trending' in the world of design; it's truly a reflection of what's needed in our world today." – Laurie Pressman, Vice President of the Pantone Color Institute.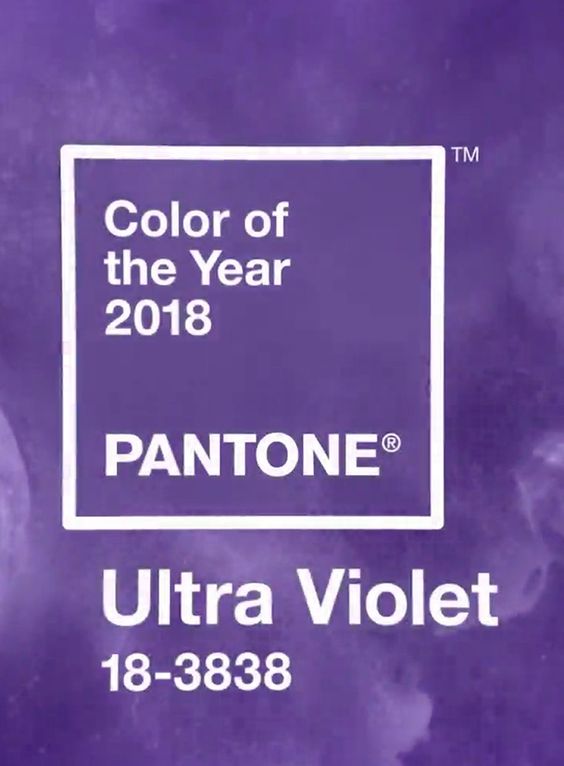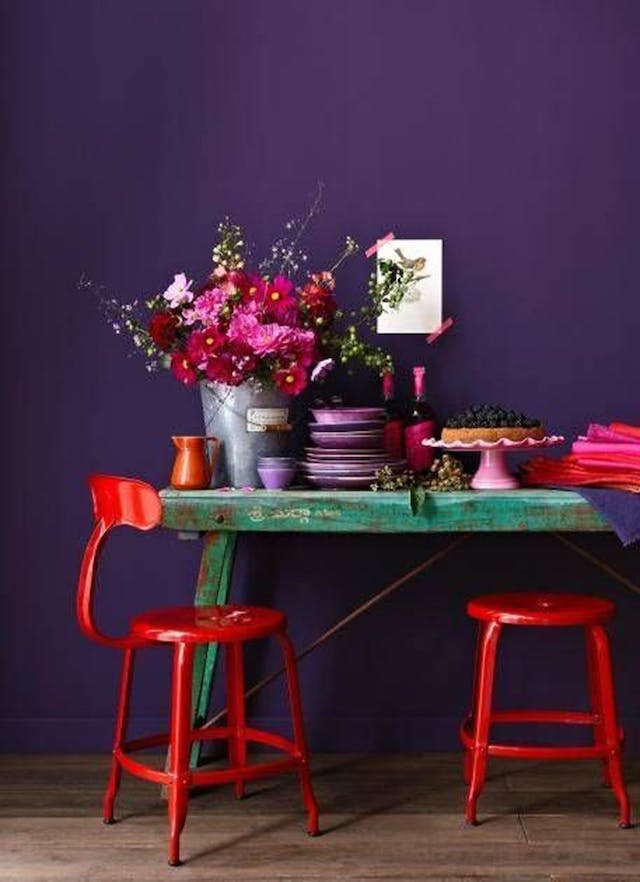 Kitchens: Goodbye white and bright, hello color!
I love white kitchens!! Everything white and light and Scandinavian is so me so you must believe me when I say I was heartbroken to learn that white and bright are out. Heartbroken until I saw some drop gorgeous kitchens in dark cabinets and more color!
"While we consider white kitchens beautiful, timeless, and classic, we predict they have reached the peak of popularity. In 2018, look out for darker, moody, dramatic kitchens that will wow you with their sultry and saturated colors." for Vogue.com
—Jean Liu
Here's an example of a kitchen in dark tones that truly caught my eye and made me think, "I can really learn to love this". This is John Legend and Christy Teigen's kitchen in their New York home. Photo via: William Waldron/Architectural Digest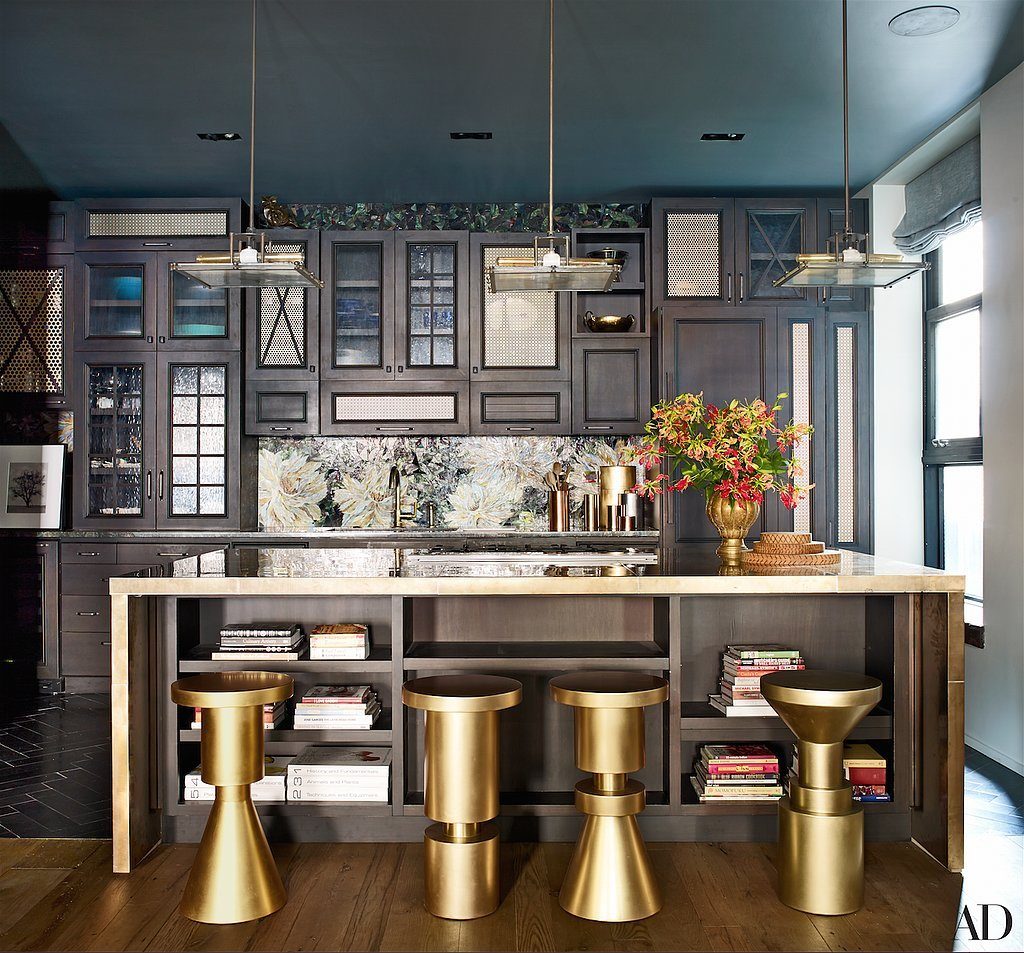 This blue kitchen by designer Kathy Marshall on The House of Turquoise using a grey tone that shows hints of Sherwin William's oceanside blue is so pretty!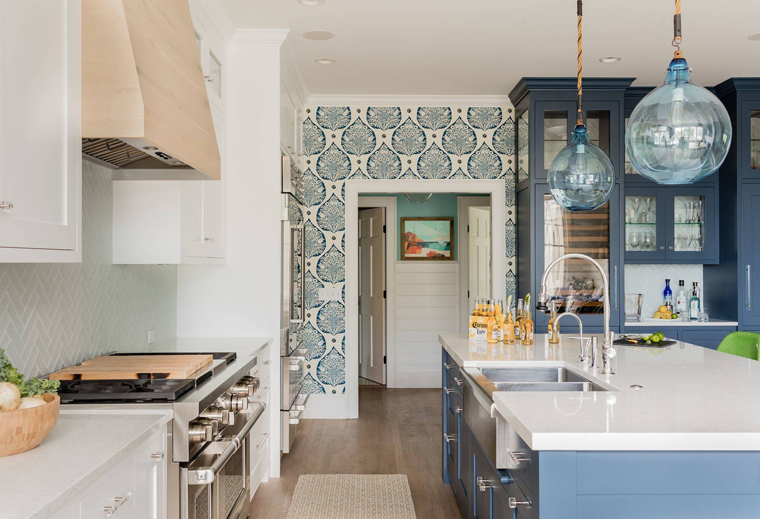 Details: Dressed Ceiling, Wood Marquee, Gilded Walls, and Molding.
I was always the "less is more" kind of girl but I can see how detail can add so much character to a space. It says, I am elegant, I am substantial, I took effort.
Just take a look at this space inside a Manhattan penthouse (photo via derringhall) by Gary Brewer, a partner at Robert A.M. Stern Architects, and Steven Gambrel of S.R. Gambrel, Inc
I love the elegant but restrained use of molding on the ceiling. The amount of details are just right and not too intimidating.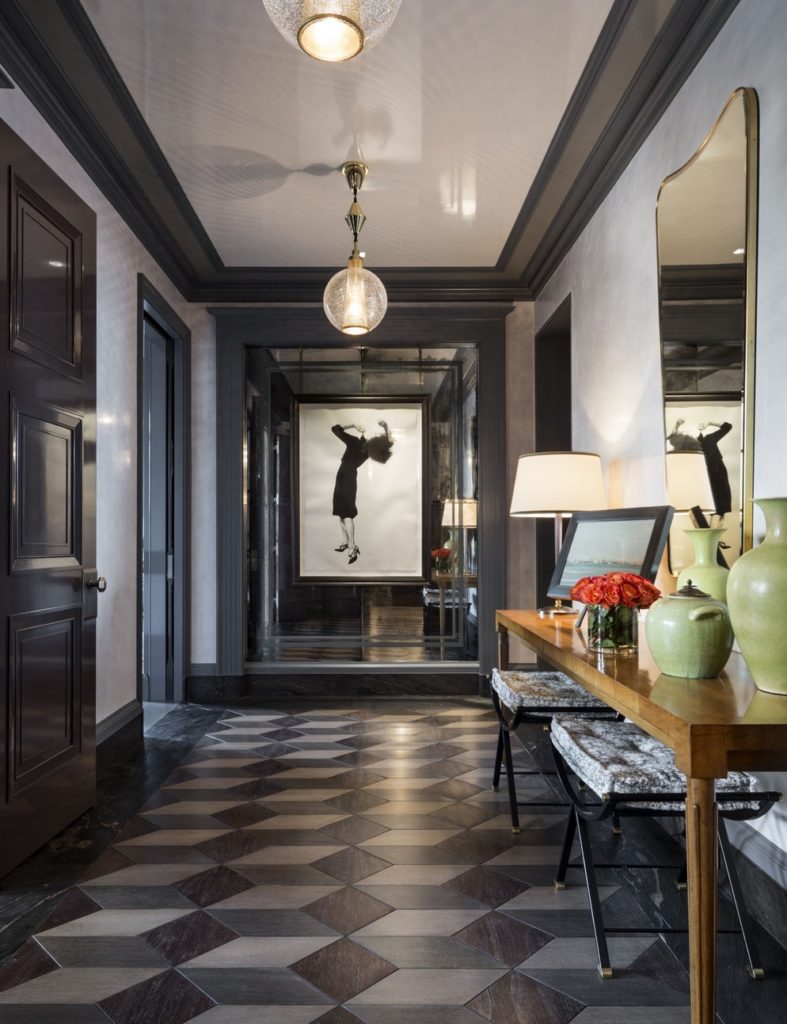 Fabric and Textile: Cotton velvet and chintz
As I've said, chintz is in but another textile to play with this 2018 is velvet. Think of the sultry elegance of velvet and the nice cozy feeling you get from it. Like this luscious velvet emerald green sofa. Photo via: apartment therapy.
Wow, that pretty much sums up my 2 hours research on 2018 home design trends. I actually enjoyed it, and as a designer, while I do respect and follow whatever my clients prefer, I need to keep up and be knowledgeable on what's in and what's out. As a home owner, you don't have to embrace these trends and use it but if you are feeling blah about your current space and you feel uninspired then it's a sign that maybe you could use a dose of inspiration and learn to embrace something new.
Inspired? Pin This!