I met Rica at an event for moms and bloggers.  I knew she was a big celebrity but what drew me to her was her pretty face.  She had eyes that smiled and exuded true warmth and joy.  A common friend introduced us and I was thrilled to learn that she loved interior design and was a frustrated decorator herself.  We bumped into each other at several events after and I marveled at the super mom that she was.  She was always with her cute baby, Philip but she never seemed harassed at all!  Because she was someone who showed sincerity and never seemed pretentious, I knew we would get along.  I was so happy when she agreed to my proposal for me to feature her and their home!  After several attempts, the morning of our scheduled pictorial finally arrived.  I was looking forward to meaningful banter and warm conversation about motherhood, being a wife and loving God.  I arrived and was greeted with a friendly smile from Philip who was breastfeeding at that time.  One conversation led to another and taking photos of her home became second priority.
The foyer alone was a telltale of Rica's creativity.  I would never think of painting a door red because I never liked the color but when I saw Rica's powder room door, I was smitten.
Her dining room featured a stone wall and the most attractive set of drop lights made of glass jars.  I love her mismatched chairs.  Rica loves stripes and you'll see them at different parts of her home.
We got carried away and chatted endlessly in her living room.  She went on to tell me about how "there was something missing" and that surrendering her life to Jesus was how she became free.  She talked about how her other showbiz friends invited her to church and how she changed from a reluctant and cold person to someone who allowed herself to be open to discipleship and the Bible.  "No one ever told me that what I was doing was wrong, no one told me that I could be doing something else.. then I was told that in the Bible this was wrong.. I realized that oh my gosh, this is the cause of my misery."  She narrated this of her past and the roles in movies and showbiz that she chose to be involved in, her series of failed relationships and why things simply would not work despite all the fame.  She later on realized that she was trying to cope with some things that were wrong when the point is to stay clean and preserve yourself.  It was only when she let her old ways go and surrender her life to Jesus that she became free and truly happy.
Rica met her husband at church.  "When God writes your love story, you'll never know what the outcome will be" says Rica, about the fact that she ended up marrying a pastor.  "I'm at a point in my life where I am just so content and happy, I could ask for more but in view of God's mercy I don't deserve any of these things that I have right now.  I have so much.. a wonderful husband, this baby.. none of this was because of my effort.  I didn't do anything and it is all by God's grace."
Looking at Rica's home is indeed an evidence of the happy and content life that she lives.  It is a personal home filled with decor that have meaning and purpose.  "I bought Domino magazine and learned that there is really no one style."  Her taste used to be eclectic, now it has toned down and is now a house of stories filled with conversational pieces like the stove from her grandma that she turned into a console table.  The painting was her mother in-law's and another photograph was from a friend of her husband.  I loved every curious corner and the fact that it was a real home styled with creativity and color.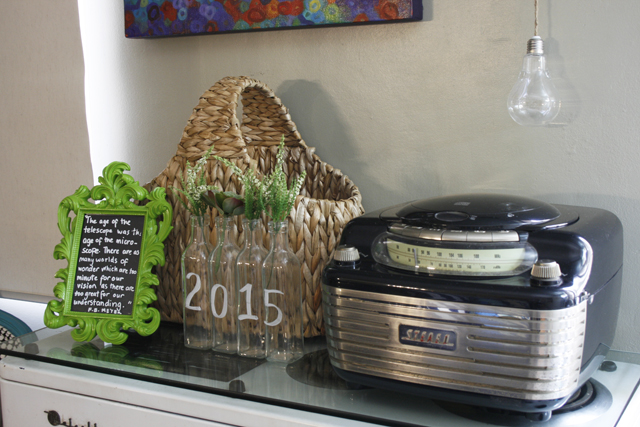 Not striving to be in the limelight, but rather making a difference through her personal stories written on her blog Wanders&Wonders, true joy can be seen in Rica's eyes.  She also continues to inspire lives through an upcoming TV show to be aired on CNN Philippines soon.  As she sits on her favorite chair, one which belonged to her mom that she had re-upholstered into a pretty grey piece, I can't help but say that she is truly one beautiful woman and a wonderful inspiration to all moms.  Thank you for sharing your story with us Rica! Happy Mother's Day to you all!