Christmas, the time of the year when we all share a little more love and show others we appreciate them. Gift giving has become a tradition that completes the Christmas Holidays. Things can get busy. There are more cars on the road scrambling to go places, people rushing to meet deadlines and the malls bustling with the holiday vibe. The new way to do Christmas shopping is to make purchases and transactions online! Here is a round-up of local Philippine small business vendors producing quality Christmas presents and services this season.
Spring Break and Teacups on FB and IG
Doterra Therapy on IG
Little Shoulders on FB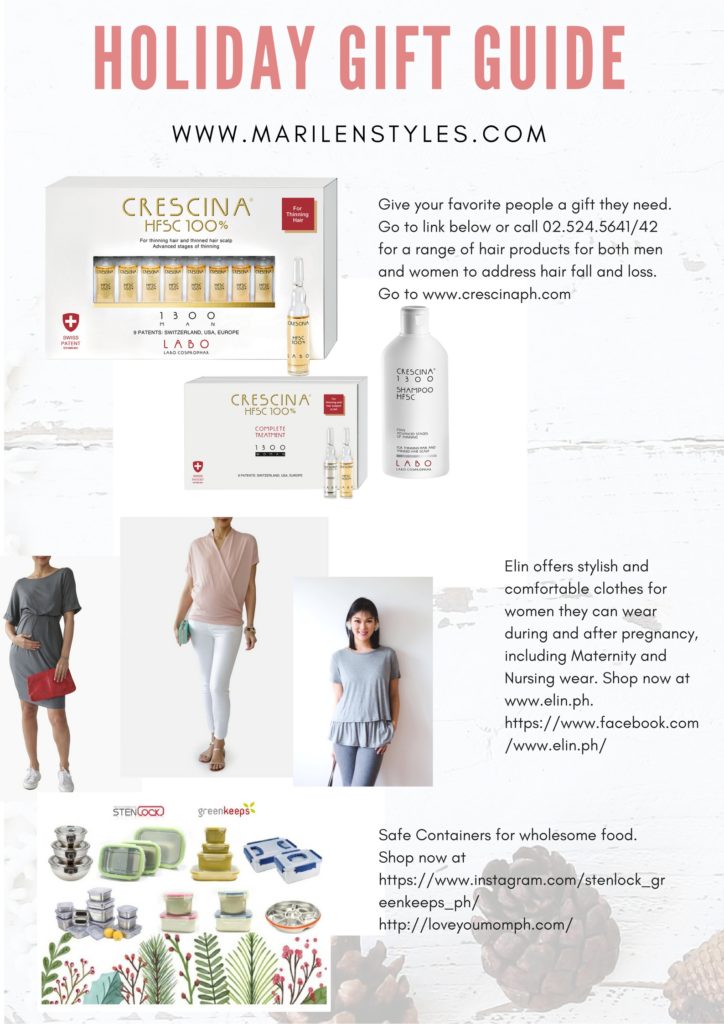 www.elin.ph Elin on FB
Stenlock greenkeeps on IG loveyoumomph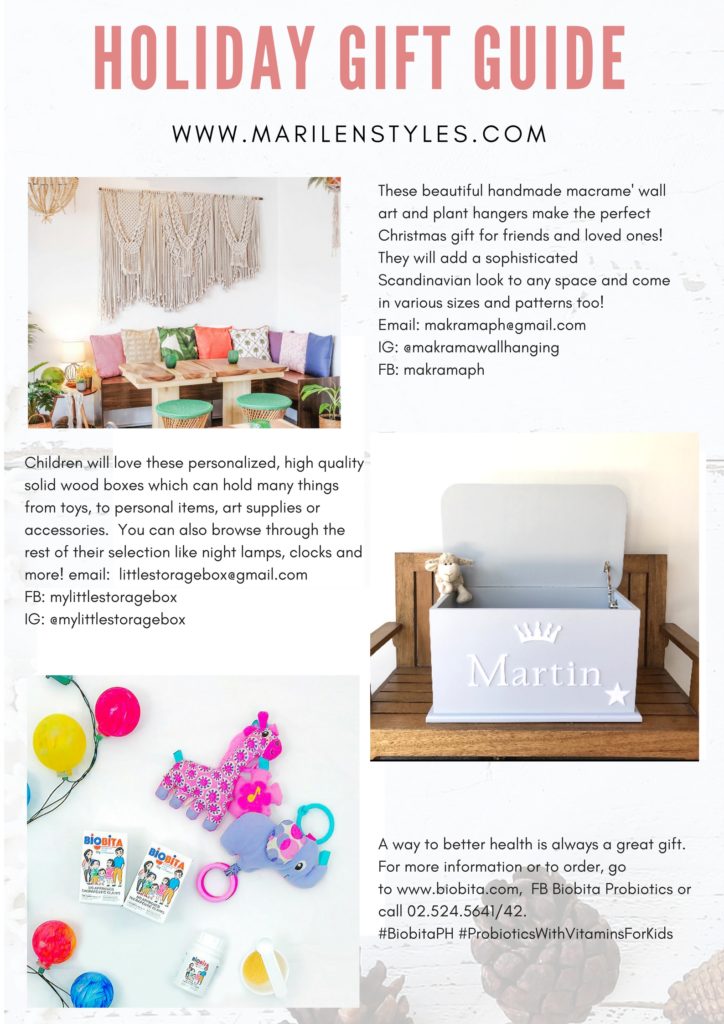 My Little Storage Box on IG and FB
Biobita Probiotics on FB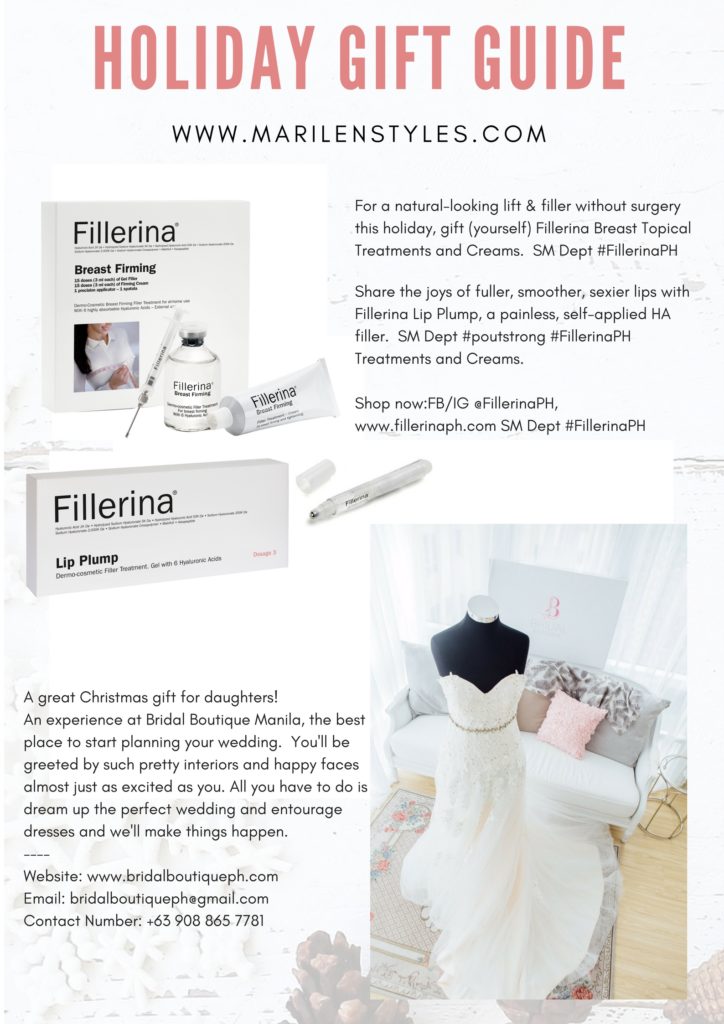 www.fillerinaph.com Fillerina on FB and IG
Bridal Boutique Manila on FB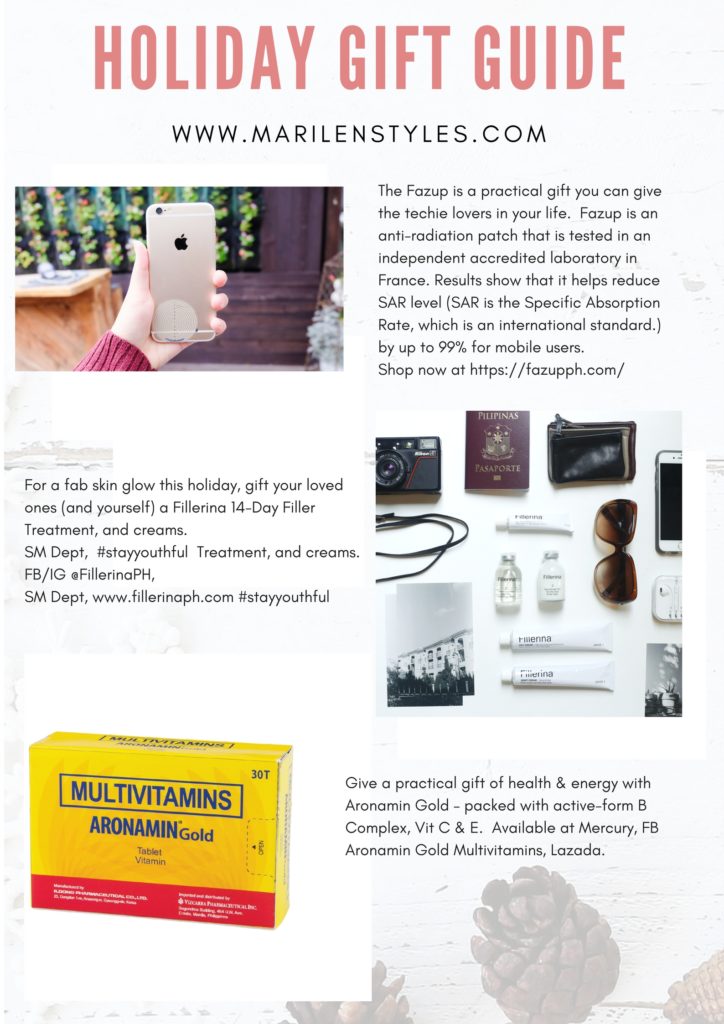 fillerinaph.com Fillerina on FB and IG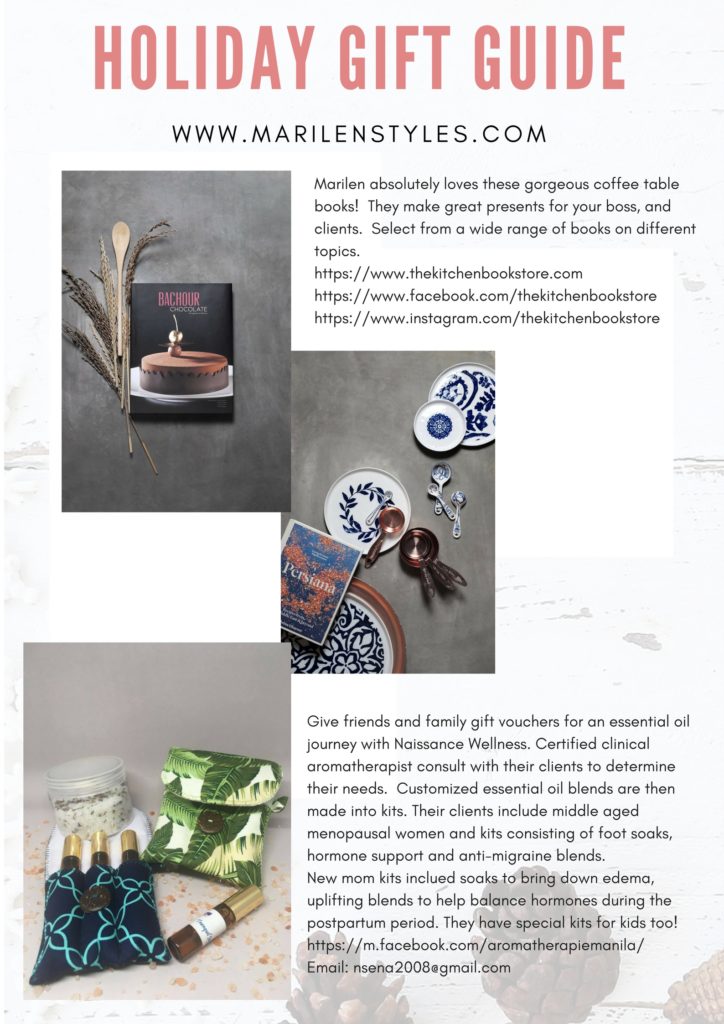 https://www.thekitchenbookstore.com
The Kitchen Bookstore on FB and IG
If you need more options, I've compiled this directory as a shopping guide for you.
Gift for Kids
My Nursery Ph customized throw pillowcases with your kids artwork; crib linen
MooMa Brand new baby car seats, cribs, strollers cribs and toys
I love you kiddie books Fun heart-warming books for children
Spinkie Toys, essentials, and décor that are child-inspired and parent-tested. We capture the joy of being a child in every product we make and we hope to make life a little more wonderful this way.
Stache Baby personalized Christmas onesies for babies
Gifts for Mom
mommylovesPH Stylish nursing wear for moms.
The Beauty Hoarder Various makeup brands.
Distinque Trend French Oil Based Perfume
La Cosa Bella Made to order gowns and dresses
Lustro Ph Fine Jewelry in gold ,diamonds and precious stones
Namewear personalized custom jewelry in brass, silver and gold
Radiant Beauty PH skin care and makeup
Banana Peel Slippers for a cause: The Banana Peel limited edition collection "Project Inclusion" features the work of five PWD artists' paintings with the theme "Explore in Color." Vibrant and creative, this collection raises awareness and empowers people with special needs (such as autism) to be productive members of society.
The Cassiopeia Box A one stop shop for everything like clothes, jewelry, skin care and more!
Erin Neumieia fine jewelry
Abby Yu All natural soap; Bath& Body Works products Call 0917 3273206
Appetite Shoes fashionable and comfy footwear
Home, Services and Food
Mr. Butler errands services, handyman, cleaners and more
Mugs Shop Manila personalized mugs and more
Kalinga Brew Coffee Kalinga brew is known for tastier coffee grounds for its combination of excelsa, robusta and arabica from Tabuk, Kalinga. It is organic and grounded fresh before packing to make sure you get quality coffee weekly. Free delivery within MM
Forward farms All- natural, free range, zero anti-biotics beef, pork and chicken. We have gift packs and noche buena items!