How was your weekend? Mine was quiet in terms of work, but busy and chaotic with the kids.  We spent the morning at the local village market as we went on a food frenzy buying bread, hummus, corn on the stick, and grilled fish.  It was a pleasant morning and the kids enjoyed the little picnic we had as we laid a blanket on the grass. I guess I am a little tired because I didn't sleep so well last night. We're spending the weekend at my in- laws while they're gone for holiday so we were cramped with the kids. This reminds me of how important it is to have a cozy and neat bedroom.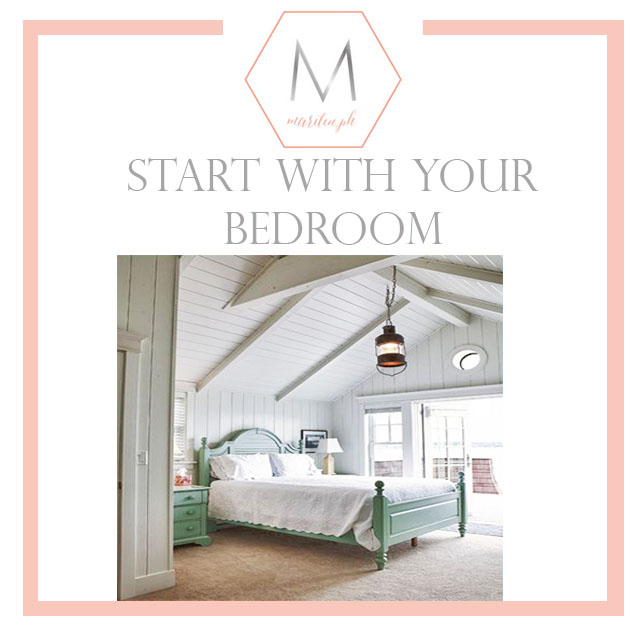 We often get so comfortable in our own room that we get used to the mess or worse, we don't notice it.  Have you ever stopped to think about how much more rested and relaxed you would be in a room that was neat? Start improving things one day at a time. Here are some practical steps towards a better bedroom:
1. Invest in bed sheets you love.
Treat yourself and enjoy good sleep with the right sheets. I've been in homes where sheets are so faded and thin, the owners can't seem to part with it. I've also been a guest in a home where they have hotel quality sheets and it really made a difference. It doesn't mean you have to buy the most expensive ones, but do spend on something you love and don't be afraid to part with your old ones.
2. Organize and style your bedside table.
The next day can be dedicated to organizing your night table. A lot of unnecessary things can accumulate here and realizing that you don't need all the junk is important. Aside from removing the clutter, adding some pretty things will lift your spirits. These are the things that I feel should go on your bedside table:
– some books
– a lamp
– important things like your mobile, remote controls, your everyday jewelry
– something decorative like a plant or flowers.
– a picture frame
Everything else should go inside the drawers or stored in decorative boxes.
3. Purge then hide all the mess.
The most important step to a pretty bedroom is to organize and hide all the things you do need but not on a regular basis.  If you can't hide them because you lack storage, consider making them decorative or use nice boxes and containers to store them. I like the photo below, she had no night table but still hid everything in a decorative bin and put a basket on the wall for added storage.
"I will lie down and sleep in peace for you oh Lord make me dwell in safety." – Psalm 4:8